Welcome to the Father's Day giveaway event sponsored by Tip Hero, featuring some wonderful bloggers. With Father's Day just around the corner, we thought that a giveaway event was a great way to recognize all of the dads out there and to give someone a chance to win a great dad-ly prize.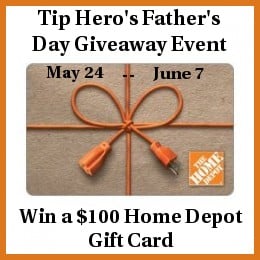 One lucky winner will be the recipient of a $100 Home Depot gift card to help get your favorite dad the perfect gift this Father's Day!
This giveaway begins on May 24th and will run until June 7th at 11:59pm US Eastern time. It will be open to residents of the US only, 18+. Use the PromoSimple form below to enter, and be sure to take advantage of the many entries you can gain. And make sure you come back daily for even more chances to win.
Good luck to all!
Please use the giveaway form to enter at the bottom of the post.
Are you ready for Memorial Day Weekend??
I'm sure most of you have all sorts of plans.  The weather this time of year should be lovely.  Which means that while most of the country is out enjoying the long weekend the hubs gets super busy.  Holiday weekends are super crazy & they never stop running calls.  While it's been a while since he has had to be in the back of an ambulance doing patient care- it's weekends like these that keep him on his toes with managing emergencies.  Emergency preparedness is always on our minds which is why we are so adamant about having a First Aid Kit.
You see- before we moved here- the hubs was not only on the Homeland Security Working Group for NV, he was the County Deputy Fire Chief among many many things- but he was also coordinated the Disaster Preparedness Program for the second largest county in the nation. (geographically speaking) We had things like the NV Test Site, Area 51 (yes it exists) & Yucca Mountain in our jurisdiction.  He was PREPARED for the worst of the worst.  Which means that we live, breathe, eat & sleep being prepared.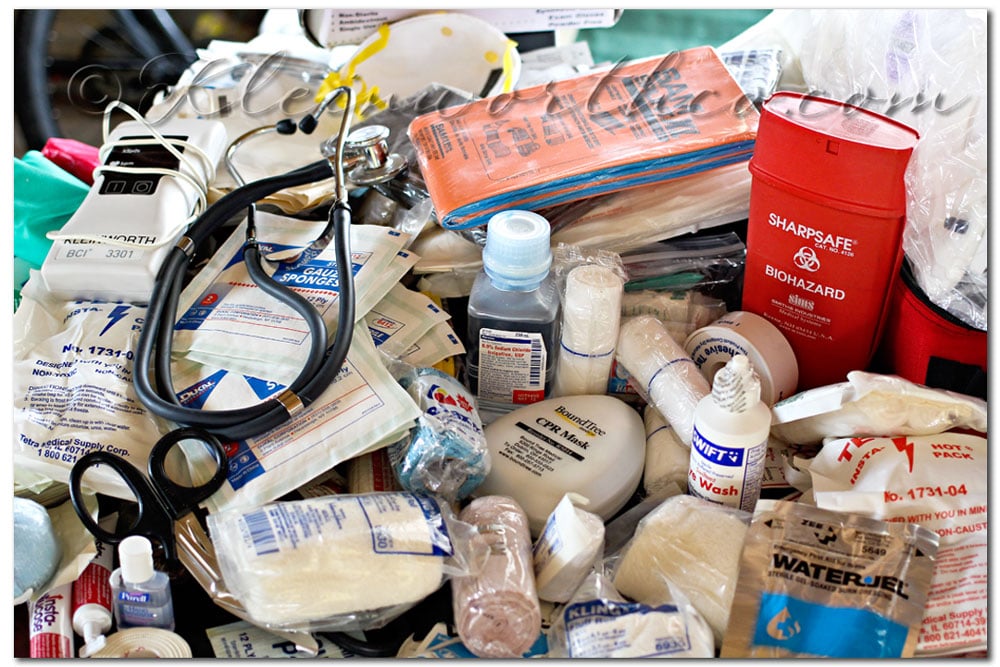 So knowing all of that- it should come as no surprise to you that this above image shows all the things that are in just ONE of our MULTIPLE emergency kits we have between our house & vehicles.  I know most people don't have access to a lot of these things & even if they did- are not medical professionals & therefore wouldn't use them.  So I decided to put together a quick & simple kit for you all that is perfect for your house, car, boat or RV.  AND- it's re-purposed from a coffee can so it's an extra win in my book.
First Aid Kit DIY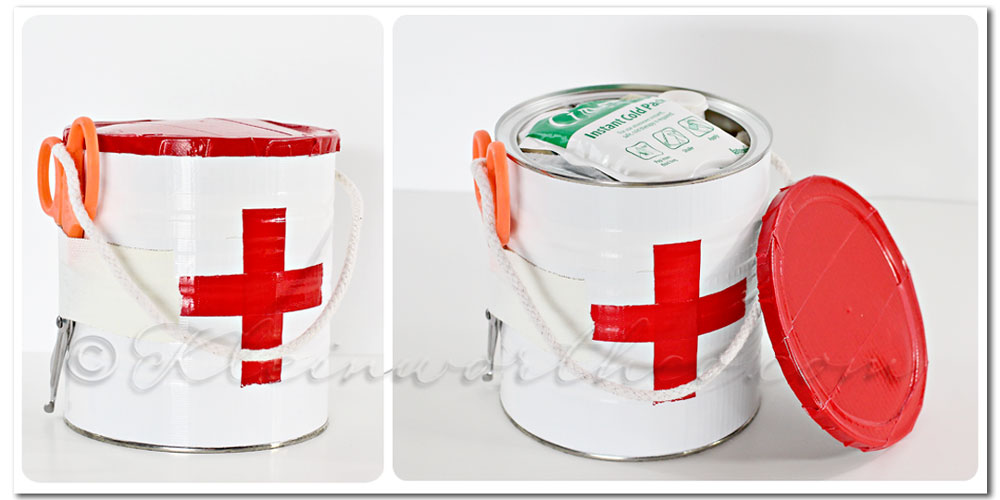 I covered my can with white & red duct tape.  You could do the cute prints too.
I wanted mine to be unmistakable so that anyone who sees it would know exactly what it's for.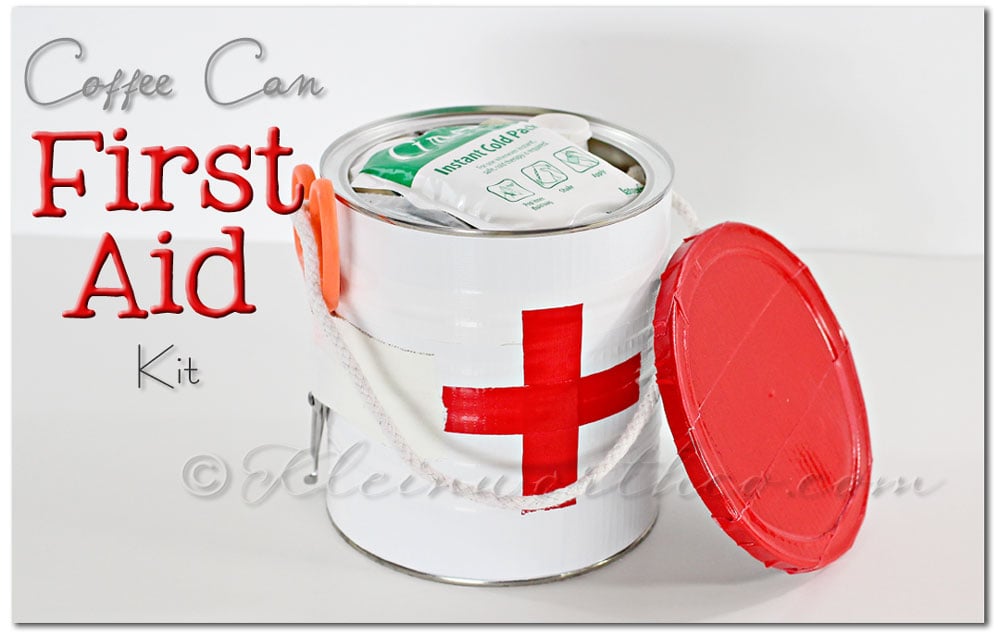 You won't believe all the things that fit in this little can.
You could make several for all the places you may need one.  I had one growing up as a kid.  We made them in our Girl Scout Troop (thanks mom).  It was great with the rope handle (just drill holes & slip through with a knot) .  We could just grab & go whenever we were headed outdoors.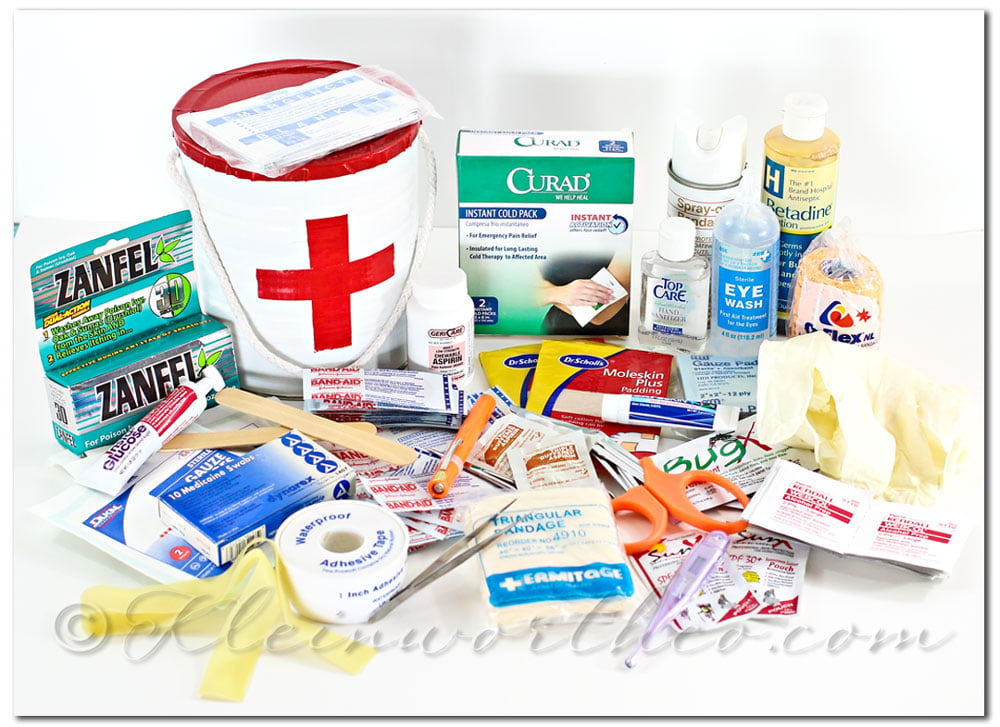 If you take some of the larger things out of the large box packaging- YES- all these things will fit in your First Aid Kit.
Let me just say- all of these things can be picked up at your local drug store or online.
I recommend stuffing as many band-aids in there as you can fit (those are the things you will need & use the most)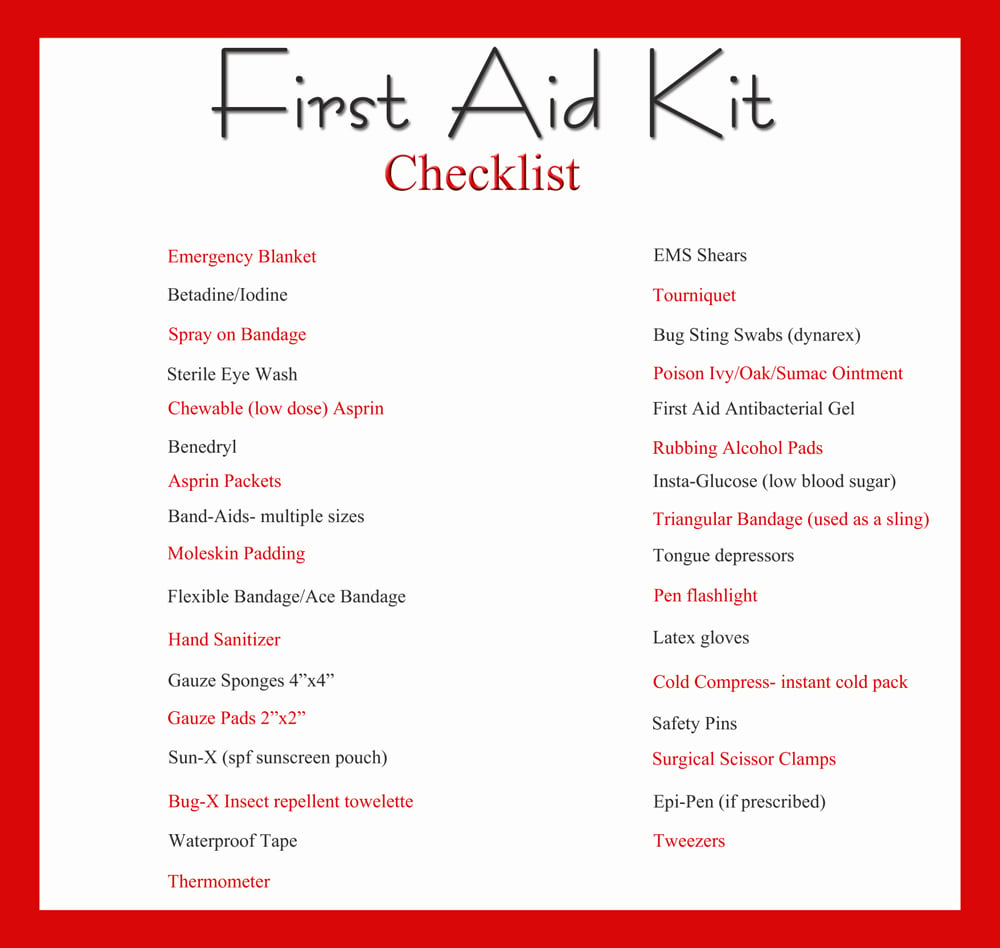 I made this quick reference checklist you can take with you to the store.  Download & print.
Wishing you all a very SAFE Memorial Day weekend! 
Don't forget to enter the giveaway
To see where I am linking today- visit
HERE
[jetpack_subscription_form]