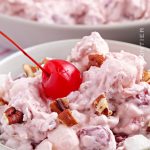 Print
Cherry Fluff
Cherry Fluff is a side dish that's quick and easy to make. It is made with cherry pie filling crushed pineapple, mini marshmallows, and more!
In a large bowl, stir together the cherry pie filling, sweetened condensed milk and pineapple.

Stir in marshmallows.

Fold in the whipped topping and the pecans.

Cover with plastic wrap and store in the refrigerator for at least 1 hour before serving. Overnight is fine.