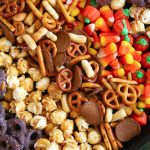 Print
Halloween Snack Mix
Our Halloween Snack Mix includes a combination of sweet and salty, crunchy and chocolaty treats that will have your guests feeling delighted. Positively delicious with all the favorites for fall!
Depending on the size of your bowl or tray - quantities will vary. But start with about 1 cup of each ingredient. You can always increase different ingredients based on your preferences or needs.
Milk Chocolate Covered Pretzels

White Chocolate Covered Pretzels

Caramel &/OR Butter Toffee Popcorn

- such as Cracker Jacks or Crunch n' Munch

Candy Corn - Fall Mix

Savory Snack Mix

- such as Chex or Gardetto's

Peanut Butter Filled Pretzels

Chocolate Caramel Popcorn
Either lay all of the ingredients out into strips (as shown) on a large baking sheet OR combine them all in a bowl and toss gently to combine.

To store - either cover with plastic wrap, foil or transfer to an airtight container or ziptop bag and store for 1-2 weeks at room temperature.
Ingredient Variations
mini marshmallows
mini peanut butter cups
peanuts
chocolate puffed cereal
mini Oreo's
mini chocolate chip cookies
raisinettes
dried fruit - raisins, cranberries, apricots