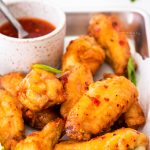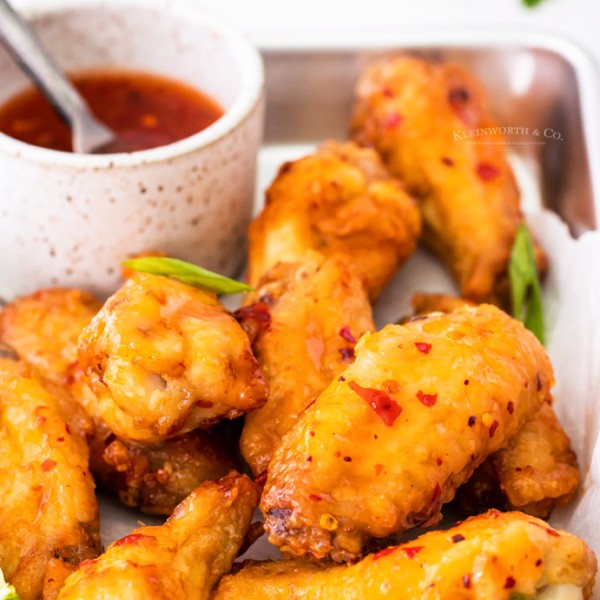 Print
Sweet Thai Chili Wings
These Sweet Thai Chili Wings were inspired by a dish I usually order when I'm enjoying a night out. They combine the best flavors of sweet chili sauce and wings and are cooked in the air fryer, making them perfect for sharing with friends and family.
Wings
Pat the chicken wings dry with a paper towel and place them in a large bowl.

Add the flour and toss to combine, making sure each chicken wings is evenly coated in flour.

Spray your air fryer with olive oil spray and add the chicken wings, making sure to place them in an even layer and don't overcrowd them.

Air fry at 400F for 8 minutes. Then turn the wings over and air fry for another 8 minutes.
Sauce
While the wings cook, whisk together the sauce ingredients in a large bowl (sweet chili sauce, lime juice, grated garlic, grated ginger, and red pepper flakes).

Once the chicken has finished cooking, transfer them to a large bowl. Add the sauce and toss the cooked wings with the sauce until they're evenly coated.

Place the wings back in the air fryer (in a single layer) and fry for an additional 2 minutes.

Serve immediately, garnished with green onion or cilantro.

Store any leftover wings in an airtight container in the fridge for up to two days
I like to serve chicken wings with the flats and drumettes separated. If you prefer them together, feel free to keep the chicken wing whole.
Flour helps the chicken wings crisp by drawing extra moisture out of the skin.
Sweet chili sauce is a slightly sweet, slightly spicy sauce that is the perfect base for our wing sauce. It's available at almost every grocery store in the International aisle.
Lime juice adds freshness and acidity to the sauce.
Garlic and ginger add great flavor and bite to the sauce— but it's also delicious without it! If you have them on hand, great. If not, no big deal!
Red pepper flakes (or sriracha) add a hint of spice. Feel free to leave it out if you like mild wings.