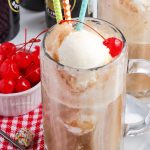 Print
Make a Root Beer Float
Check out how to Make a Root Beer Float! With bubbly root beer and creamy vanilla ice cream, it's a great way to cool down and enjoy a treat!
Vanilla Ice Cream

Root Beer
To make the float frosty, place the glasses or mugs in the freezer about 30 minutes before serving.

Add several scoops of ice cream to the chilled glasses.

Pour the root beer over the ice cream.

Add any toppings you like.

Serve immediately.