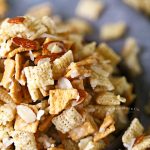 Print
Sweet and Salty Snack Mix
This Sweet and Salty Snack Mix recipe is easy to make & ready in just 15 minutes, making it just the right thing for satisfying that salty-sweet craving. It is perfect for any occasion - parties, game day & more.
Combine the rice cereal, corn cereal, golden graham cereal, mixed nuts, almonds, and coconut in a large bowl. Toss to combine. Set aside.

In a medium saucepan, combine the sugar, corn syrup, and butter. Heat over medium and bring to a boil, stirring occasionally.

Boil for 2 minutes - stirring frequently.

Remove from heat, stir in vanilla and then pour over the cereal mixture.

Toss with a large spoon to thoroughly coat before serving.
If you want the mixture less sticky - use 4 cups each of the cereal.
You can use unsalted butter if desired.
You can use salted or unsalted nuts.