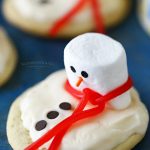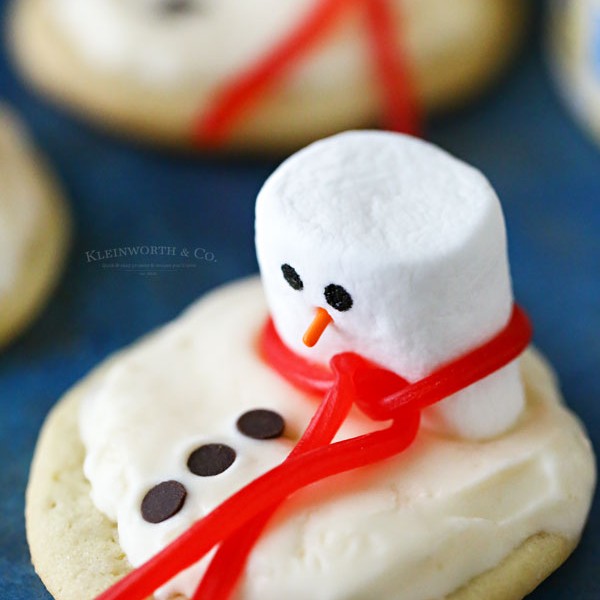 Print
Melting Snowman Frosted Cookies
Melting Snowman Frosted Cookies are an adorable way to bring the magic of the season indoors using sugar cookies, ice cream, marshmallows, and more.
EDY'S® GRAND or DREYER'S Slow Churned vanilla ice cream

20

sugar cookies

store-bought or homemade

20

large marshmallows

1

tbsp

dark brown icing

1

tsp

orange sprinkles

2

strands

pull-n-peel licorice

1

tbsp

mini chocolate chips
Prepare the baked and cooled cookies by laying them out onto a baking sheet.

Spread a thick layer of ice cream onto the cookies and then place the cookies in the freezer for the ice cream to set.

While you are waiting for the ice cream, decorate the marshmallows by adding dots of the brown icing for the eyes and pushing an orange sprinkle halfway into the marshmallow for the nose.

You can also wrap one strand of the peel-n-pull licorice around the bottom and carefully tie it, taking care to not break the strand by pulling too hard.

Once the ice cream-covered cookies are solid they are ready to decorate for serving.

Remove the cookies from the freezer and top with the decorated marshmallows and add a couple of mini chocolate chips to the ice cream for the buttons. Serve immediately.
Recipe recreated from

EDY'S®

- https://www.edys.com/recipes/detail/edys-melting-snowman-frosted-cookies