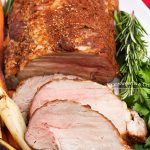 Print
Pork Loin Roast
This Pork Loin Roast is easy to make and ready in about an hour, which makes it perfect for holiday meals and weeknight dinners alike.
3

pound

pork loin roast

2

tsp

garlic powder

2

tsp

kosher salt

1

tsp

paprika

1

tsp

ground mustard

½

tsp

pepper
Remove the pork loin roast from the refrigerator and let sit at room temperature for about 15 minutes.

Preheat the oven to 375 F degrees.

Place the pork loin in a baking dish with the fat cap facing up.

Cook the pork loin in the preheated oven until it reaches a temperature of 140 F degrees or about 60 minutes.

Remove the pan from the oven and transfer the pork to a clean cutting board and allow it to rest for 15 minutes.

Slice the pork loin crossways into ¾ to 1-inch slices and serve with a drizzle of the pan drippings over the top.