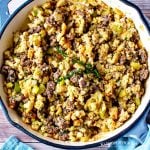 Print
Easy Sausage Stuffing
Savory pork sausage, onions, celery & stuffing mix, made in 30 minutes on the stovetop making this Easy Sausage Stuffing the perfect holiday side dish.
Brown the sausage in a large skillet. Remove and set aside. Leave some of the grease from the sausage in the bottom for added flavor.

Place the celery, onions, and butter in the same skillet. Cook on med-high until the onions are translucent and the celery is softened.

Add the sausage back into the skillet, along with the stuffing and then the chicken stock. Stir.

Bring to a simmer, then remove from heat.

Cover and let sit for 5 minutes.

Uncover and fluff before serving.