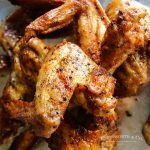 Print
Pellet Grill Chicken Wings
Break out your Traeger, these Pellet Grill Chicken Wings are out of this world. So easy to make, perfect for summer bbq's, tailgating or any game day party.
Place chicken wings in a large bowl with olive oil, salt, pepper, seasoned salt, Pappy's & granulated garlic. Toss to coat.

Set the temperature of your grill to 350℉ & preheat, lid closed for 15 minutes.

Place the seasoned chicken wings on the grill & close the lid.

Cook for 45 to 50 minutes, or until the skin is brown and crisp and the meat is no longer pink at the bone.

Turn once during the cooking time to prevent the wings from sticking to the grill grate. Remove from grill.

Place in a large bowl & toss with your favorite sauce if desired or enjoy right off the grill.