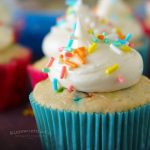 Print
2-Ingredient Funfetti® Cupcakes
2-Ingredient Funfetti® Cupcakes made with diet Ginger Ale & topped with Funfetti® Frosting
Frosting
1-2

cans Funfetti® Frosting
Preheat oven to 375ºF.

Line muffin tins with 18 muffin liners, spritz with a little cooking spray & set aside.

In a medium mixing bowl, pour the cake mix.

Slowly pour the diet Ginger Ale into the cake mix.

Whisk together until all lumps are gone.

Spoon batter into prepared muffin liners, filling about ¾ full.

Bake for 10 minutes & then reduce heat to 350 degrees

Continue baking 8-10 minutes or until they spring back when centers are lightly pressed

Let cool on a cooling rack.
Frosting
Transfer to piping bag with large round tip

Swirl on frosting & top with sprinkles included in frosting can