Print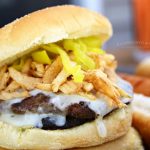 Havarti Onion Burger Recipe
Havarti Onion Burger Recipe is the perfect grilling recipe to add to your summer backyard BBQ party. Loaded with crunchy fried onions & paired with Lipton Iced Tea!
2

lbs

ground chuck

3-4

tbsp

olive oil

salt

pepper, season salt, granulated garlic to taste

Havarti cheese slices

1/8

cup

fried onions

per burger

3-4

pepperoncini

yellow peppers(per burger)

Your choice of burger buns
Preheat your grill

Place beef in large bowl & add in your salt, pepper, season salt, granulated garlic to taste

Work seasoning into your beef so it's all combined

Form into patty shape

Place raw patties on baking sheet & brush with olive oil

Once grill is ready - place patties on the grill to sear - flipping once to sear both sides

Once seared, lower temperature & allow to cook for about 15-20 minutes flipping only one more time. Don't press down on them - or you will press all the juices out. You want to just let them cook without being disturbed, slow & steady.

When you are getting close to your time insert a meat thermometer - if it reaches above 160 degrees (if not continue cooking a little longer) - add your cheese & allow to melt slightly before removing patties from the grill.
It's time to assemble your burger
Add your burger patty to your bun

Top with fried dried onions & finally your pepperoncini