I had the pleasure recently of getting to preview a copy of the new Bittersweet Walnut Grove book "Spring Thyme".  It released last week & I know it is going to be just as popular as the "Winter Thyme" edition that I was also able to get my hands on a few months ago.
The book is written by Kristy from Life n' Reflection, along with her sister, Tiffany & their mother.  It's packed full of things like recipes, sewing projects, gardening tips, DIY projects, homemade beauty products, gift ideas, printables & LOADS of inspiration.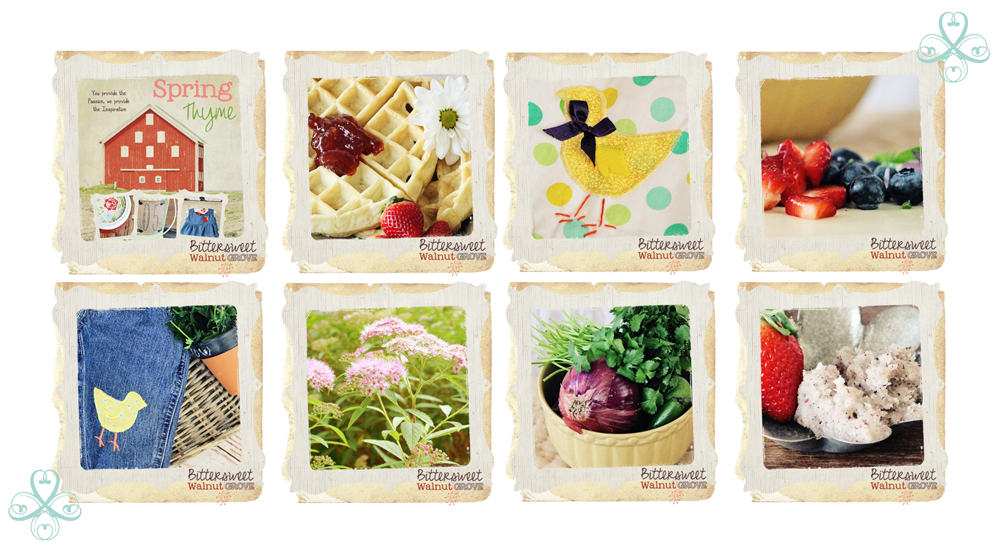 Just look at all the adorable things to inspire you get creative!!!  With each book Kristy & Tiffany really do a great job not only with giving ideas but also with explaining each step perfectly so your project is sure to come out picture perfect!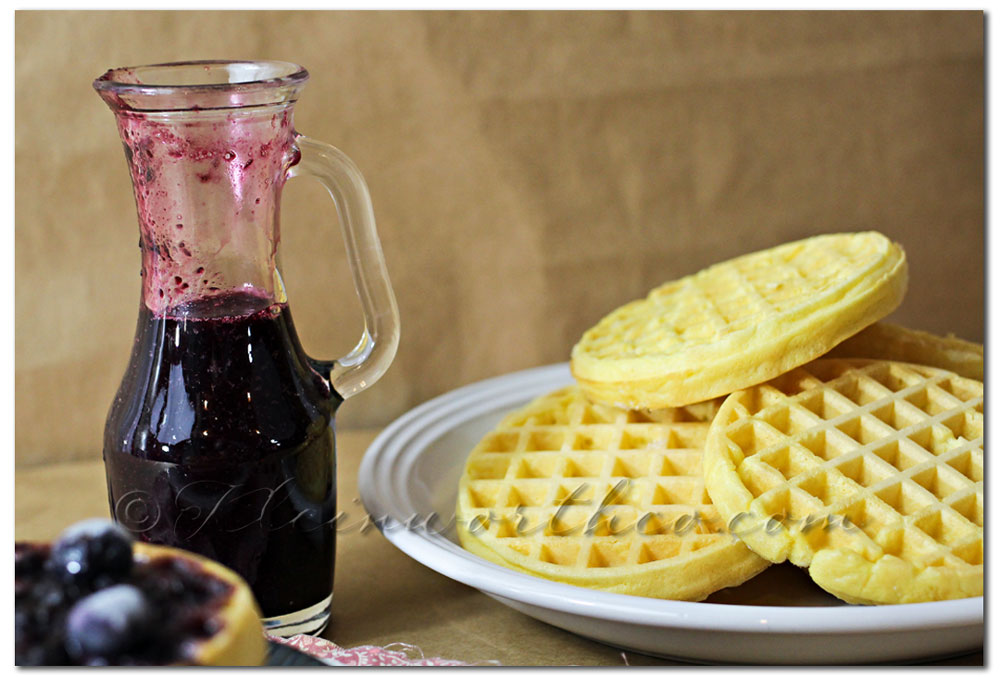 I decided the first thing I was going to try was the buttermilk waffles.  I used this mini waffle maker from Sunbeam & the kids were able to help me along the way.  They came out SO GOOD & I LOVE that they look like the store bought ones but taste so much better!!!  If you would like to make your own buttermilk waffles with Kristy's recipe- head on over HERE & pick up her book.  You can buy & download immediately for Kindle or pick up the hard copy.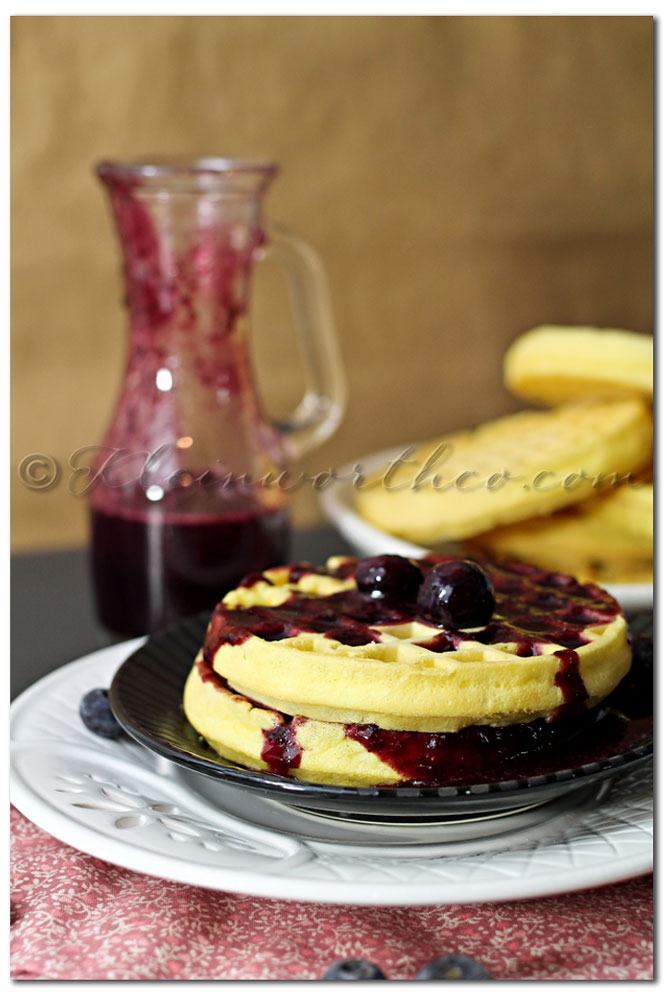 Kristy's delicious waffles inspired me to then make some homemade blueberry syrup.
It's a favorite of the hubs- so he was super thrilled when he came home to find it.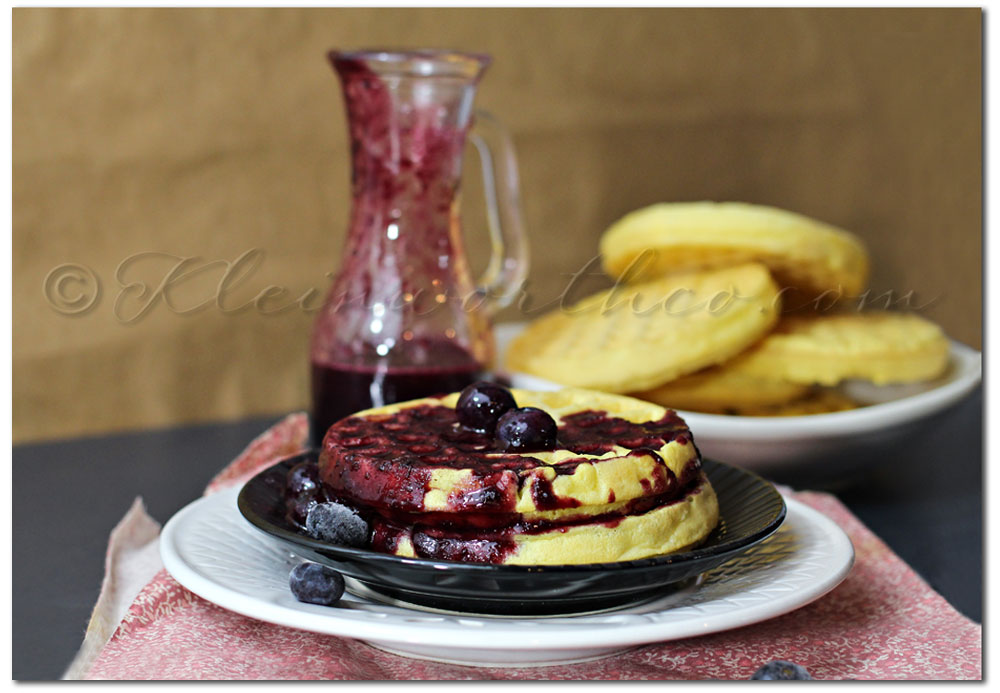 I'm not only loving the taste- but I just swoon over that color on my plate.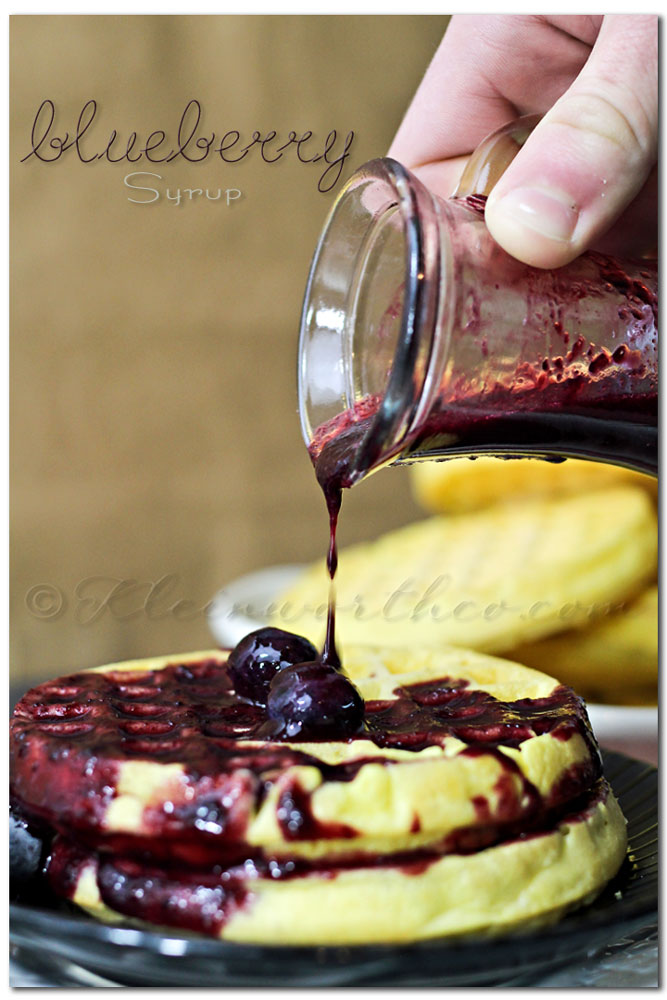 I think next time I will make the waffles, top them with a scoop of vanilla ice cream & then pour the syrup on.
Hmmmm- I may not be able to wait.  It sounds too good.
Ingredients
2 1/4 cups fresh blueberries
1 cup sugar
3/4 cup water
Instructions
Add all ingredients to a 2 qt. saucepan & bring to a boil over med-high heat.
Reduce heat & simmer about 10-12 minutes.
Remove from heat & allow to cool to room temperature in pan.
Once cool- transfer to blender & pulse until it's smooth & all the pieces of skin are undetectable.
Transfer to airtight container & store in refrigerator.
I like to heat for about 30 seconds in microwave before using.
https://www.kleinworthco.com/spring-thyme-review-blueberry-syrup-recipe/
Recipe Source: www.kleinworthco.com | (c) Kleinworth & Co All images & content are copyright protected. Please do not use my images without my permission. If you wish to republish my recipe, please re-write it in your own words or link back to this recipe.
It was the perfect compliment to Kristy's buttermilk waffles.  There are so many other things in the Bittersweet Walnut Grove Spring Thyme book that I am really looking forward to trying out & adding to my own home.  Thank you Kristy for giving me a copy to review & try.  I truly appreciate it.
Also- as a sweet  Thank You- Kristy has been so kind to offer you all free download of these adorable jar toppers.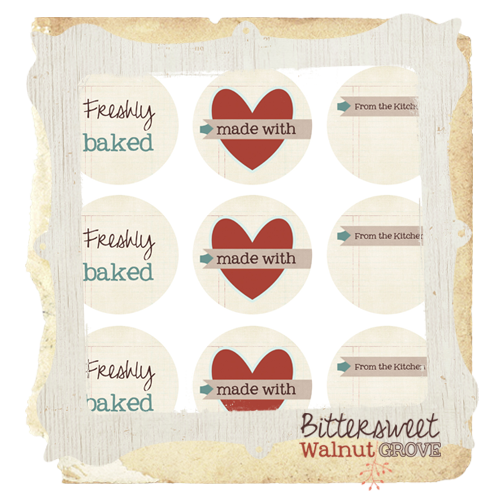 Thank you so much Kristy!!  LOVED the book!
To see where I am linking today- visit HERE