Copycat DoubleTree Hotel Cookies are a thick & chewy chocolate chip cookie just like the famous recipe you'll find when visiting the Doubletree Hotel Chain. These cookies are over the top AMAZING!
My friends, I have a serious love affair with cookies. But not just any cookies, mind you. They must be big. They must be thick and they absolutely must be packed with chocolate chips, walnuts & have a slight hint of salt in every bite.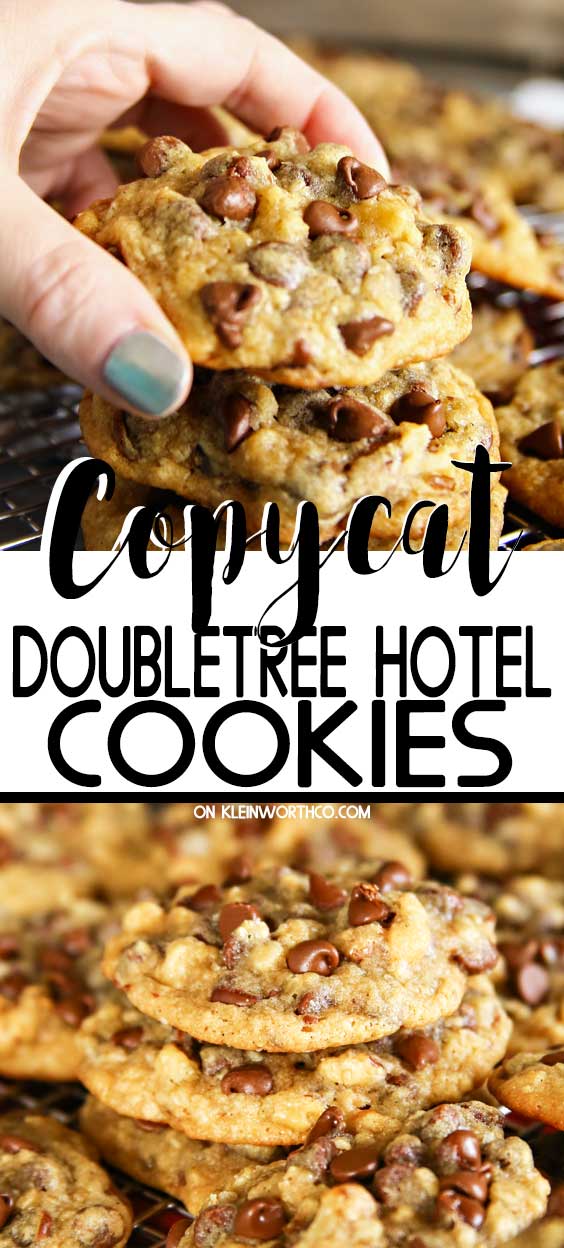 I think that is why I am 100% obsessed with these cookies. I have to say, the Doubletree Hotel sure has done it right with these cookies. So, I just had to make some of my own.
I mean, I have heard that they make upwards of 65,000 cookies each day for their guests. That is pretty impressive. It is no wonder this recipe is world-famous.
Doubletree recipe
This post contains some affiliate links. Click here to read my full disclosure policy.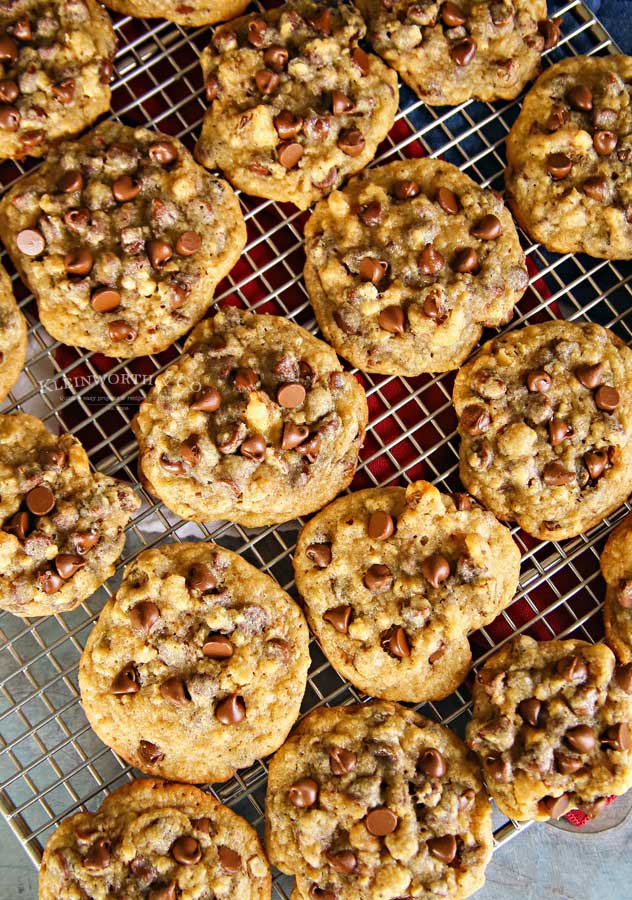 What I love about these cookies is that they are so buttery & chewy & so full of chocolate chips that you can't get a bite without one. I'm a sucker for a super buttery cookie & these do not disappoint.
It's those ground oats that give them that chewier texture than you would normally expect in a chocolate chip cookie. Definitely worth the extra step.
But let's not forget the lemon juice & the sea salt. That really changes things up in the world of chocolate chip cookies.
The extra little bit of acid in the lemon juice reacts perfectly with the dry ingredients to make these cookies bake up just right. Then that salt cuts the sweetness ever so perfectly – delish!
I'm on a mission to share all my favorite cookie recipes here. These are the ones I have been making for so many years, but ever had a place to share them.
These great for putting out for guests over the holiday season. Plus, we love adding them to goodie trays going over to the neighbors all season long too.
Don't forget to make these your go-to recipe for all the holiday parties, potlucks & festivities you have happening ALL YEAR LONG. These cookies can't be contained to just one season of the year.
Here are some commonly asked questions
Can I make this recipe with another type of chocolate chips?
Yes- that would work just fine. I have made these with semi-sweet chocolate chips, peanut butter chips & butterscotch chips too. Each one is delicious in their own way.
What is the best way to store leftover cookies?
The easiest way is to place in a large airtight container & store at room temperature. I like a large plastic bowl with a lid or a zip-top bag works great too.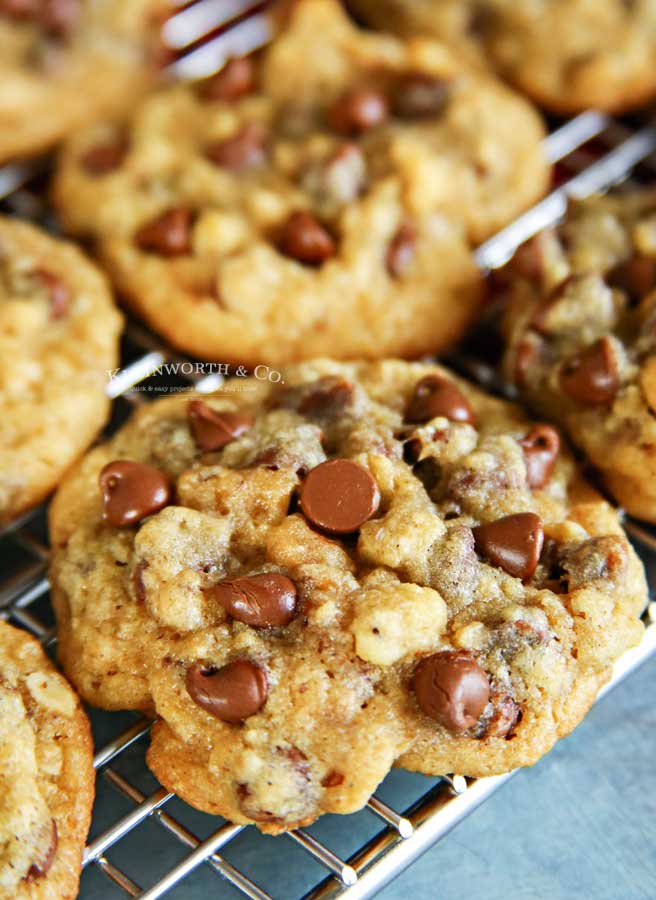 How many does this serve?
This recipe makes just 24 regular-size cookies. So, plan accordingly. It is the perfect size for our family of 5 with the perfect amount of cookies leftover for another couple days.
Better Than Doubletree Chocolate Chip Cookies
Can this recipe be doubled?
Yes, absolutely. If 24 cookies just isn't enough, I completely understand. You can most definitely double this recipe to meet your needs – just be sure to use a very large bowl. This dough filled my mixer.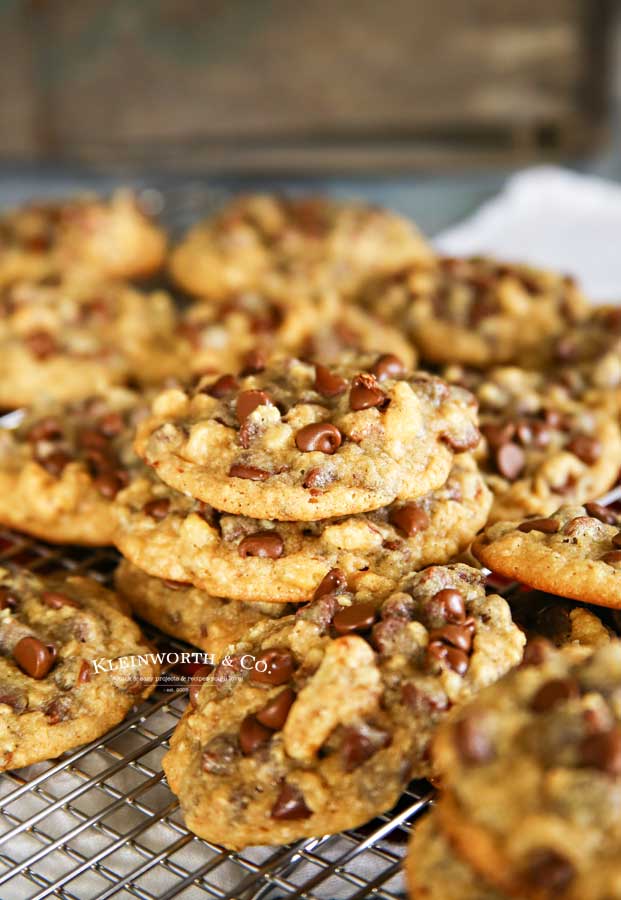 Should I use salted or unsalted butter?
I personally use whatever I have on hand. But if you are watching your salt intake, stick with the unsalted butter for these cookies. I wrote my original recipe using unsalted butter but then tried it with salted butter & liked them just the same.
HOW DO YOU MAKE Doubletree Hotel Copycat Cookies?
Quickly pulse the oats a few times in the food processor until they are light & fluffy & resemble flour.
Add flour, baking powder, salt & cinnamon to the ground oats & stir. Set aside.
Cream the butter & both sugars together in a large mixing bowl until mixture is light & fluffy.
Slowly add in eggs, vanilla & lemon juice.
Fold in dry ingredient mixture being careful to not overmix.
Fold in chocolate chips & walnuts until just mixed throughout.
Using a cookie scoop, portion out cookie dough onto a lined tray or paper plate (something small enough to fit in the fridge).
Refrigerate scooped dough for at least 2-4hours before baking.
When ready to bake, preheat oven to 350 degrees & place chilled dough on a parchment lined baking sheet approx. 1-2" apart.
Place the dough on your prepared baking sheet, approx. 1-2" apart.
Bake 12-14 minutes or until slightly golden brown.
Place additional chocolate chips in the tops of the baked cookies before they cool, if desired.
Cool a wire rack before transferring to an airtight container.
Do I have to chill the dough?
Yes. You absolutely must chill this dough or the cookies will spread too much when you bake them. For beautiful, thick & chewy cookies, chilling is essential. I find that the easiest way is to whip these up in the afternoon & pop the dough in the fridge to chill overnight. Then I bake them the next day.
Can I use a gluten-free flour?
I'm not sure just yet. I have been meaning to give this a try but haven't had a chance. If you do try this, I would recommend using a 1:1 flour like this one as I don't believe it would require additional ingredients that are typically called for when trying to make baked recipes in a gluten-free version. Please come back & tell me how they turned out.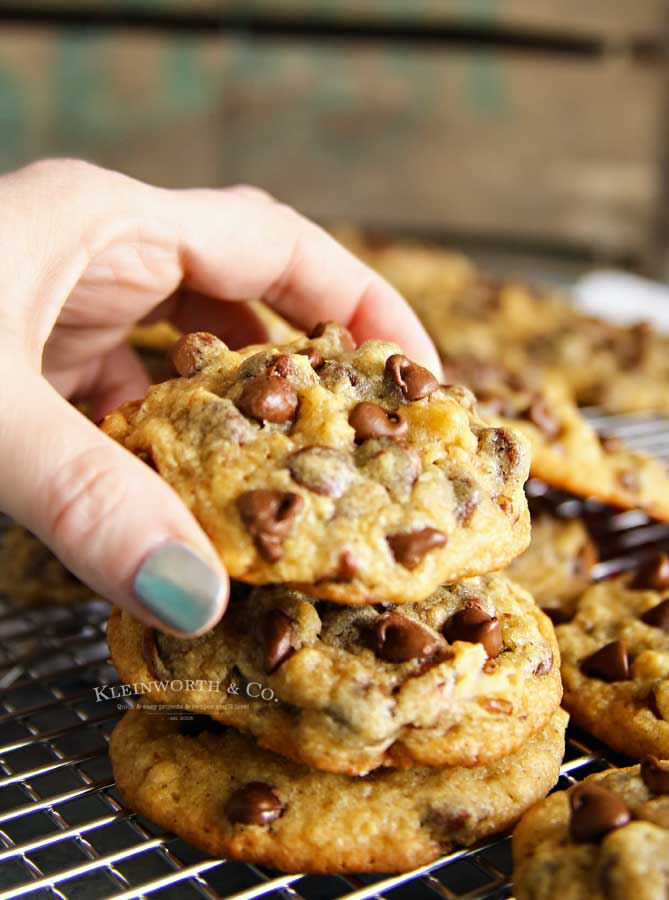 How do I properly measure the flour?
The official way is to spoon the flour into the measuring cup & level off. However, for these cookies I usually fluff the flour with a spoon & then gently scoop it into the measuring cup & then level that off before adding to my dough mixture. Make sure your flour isn't packed down when scooping or packed tightly into your measuring cup. This will make your cookies too dry.
How soft should my butter be?
So, when we are talking about softened butter, it is important that it not be so soft (or nearly melted) that it won't hold the dough together. The butter should be room temperature so it can be blended easily with the sugar.
Do I really need rolled oats?
So the rolled oats will give the right consistency with the moisture of the dough. This is what makes the cookies chewier & gives them more texture. I highly recommend sticking with the rolled oats for these cookies. I don't recommend using quick cook or old fashioned oats.
Doubletree Hotel Cookies
To make this recipe you will need…
rolled oats or oat flour
all-purpose flour
baking powder
ground cinnamon
table salt
butter
brown sugar
granulated sugar
eggs
lemon juice
vanilla extract
milk chocolate chips
chopped walnuts
coarse sea salt
Products I love when making Copycat Doubletree Hotel Cookies…
This Copycat recipe for Doubletree Hotel Cookies is so EASY and delicious – and if you're like me, then you probably already have all of these items on hand! OR maybe you have never made cookies like these before, & you might be a bit nervous – but you're going to love the how delicious these are. I have made a list below of the things I absolutely can't live without when it comes to making these cookies.
Definitely perfect for the extreme cookie lovers everywhere!!
Scroll to the bottom for the Printable Recipe
the cookie by doubletree
If you love this Copycat Double Tree Hotel Cookies recipe, you're going to love these other easy treat recipes too. Please click each link below to find the easy, printable recipe!
Double Tree Hotel Cookies Recipe
If you love this recipe for Copycat Double Tree Hotel Cookies as much as I do, please write a five star review, and be sure to help me share on facebook and pinterest!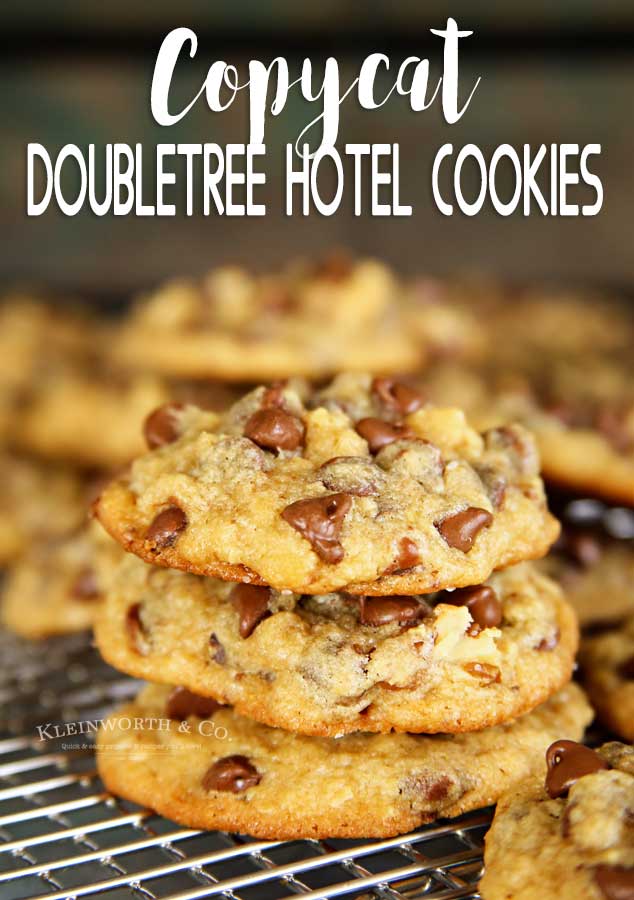 CONNECT WITH KLEINWORTH & CO!
Be sure to follow me on my social media, so you never miss a post!
FB, Pinterest, IG, Email Subscription
Don't miss these other fantastic recipes…
Mexican Hot Chocolate Cookies | The Food Charlatan
German Chocolate Cookies | Handle the Heat
Reader Interactions