Don't miss my AWESOME GIVEAWAY  from Erin Condren that went live earlier today!!
Seriously- I so wish I could enter- there are so many amazing things in her store.
As you can imagine I am having way too much fun with my donut maker.  I love having donuts over the weekend.  It sort of makes the weekend just a little more special.  It's especially nice that I don't have to get dressed, go pick them up & then come home to enjoy them with my coffee.  It sort of takes the whole fun out of it & by the time I'm dressed & ready- I'm in the mood to move on.  Not sit around & THEN enjoy my coffee.  So I really like spending Friday afternoons making donuts so we have them ready for us come Saturday morning.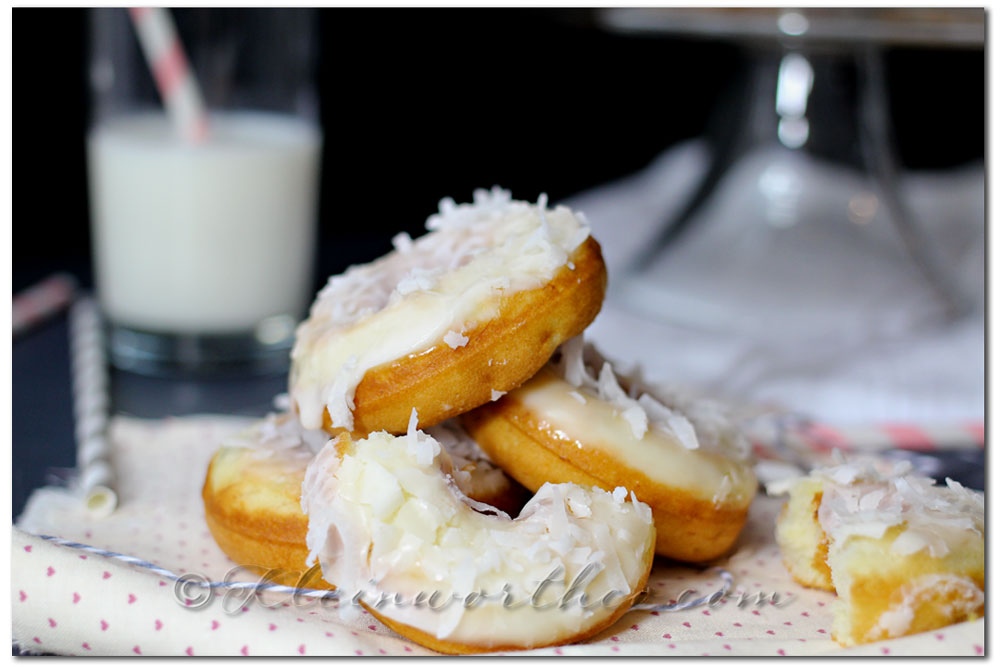 I don't know about you- but it seems my bananas are always going south way too fast.  The kids actually like me to bake with them more than they like to eat them- so I think they purposely neglect them on the counter hoping that they will become over ripe & I will have to make something with them.  Often times it's just plain ol' banana bread.  But you know- I'm tired of it.  So tired of it in fact that I don't even have any when I make it.  The kids eat it all & I'm often looking for something else.  So I decided to figure out some new ways to use those over ripe bananas.  This time it was in donuts.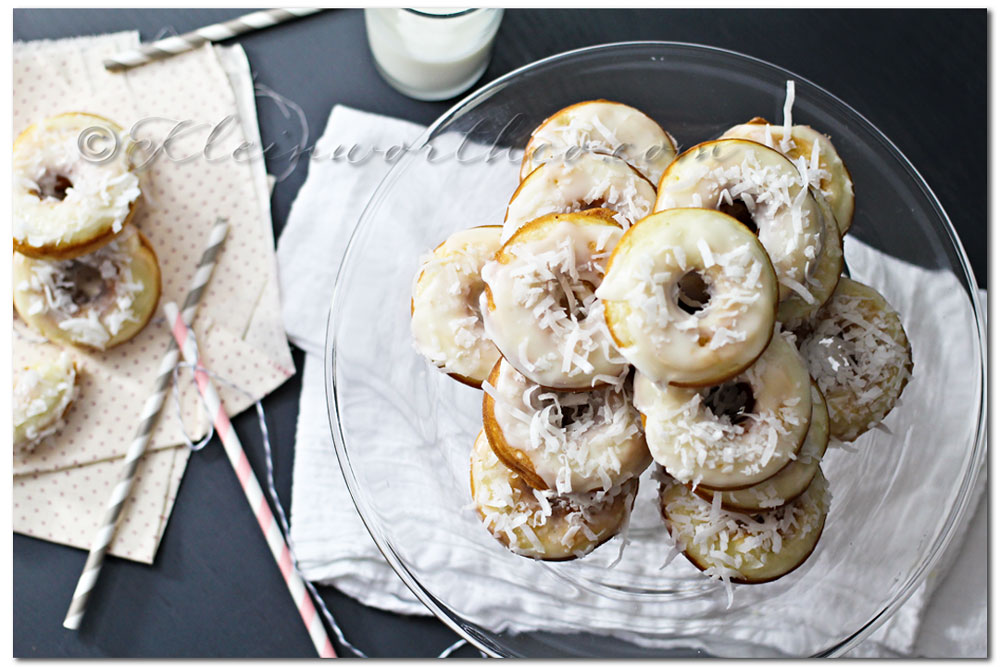 I decided after having the coconut on the Monkey Muffins that I rather like coconut with my banana flavored things- so I added it to these.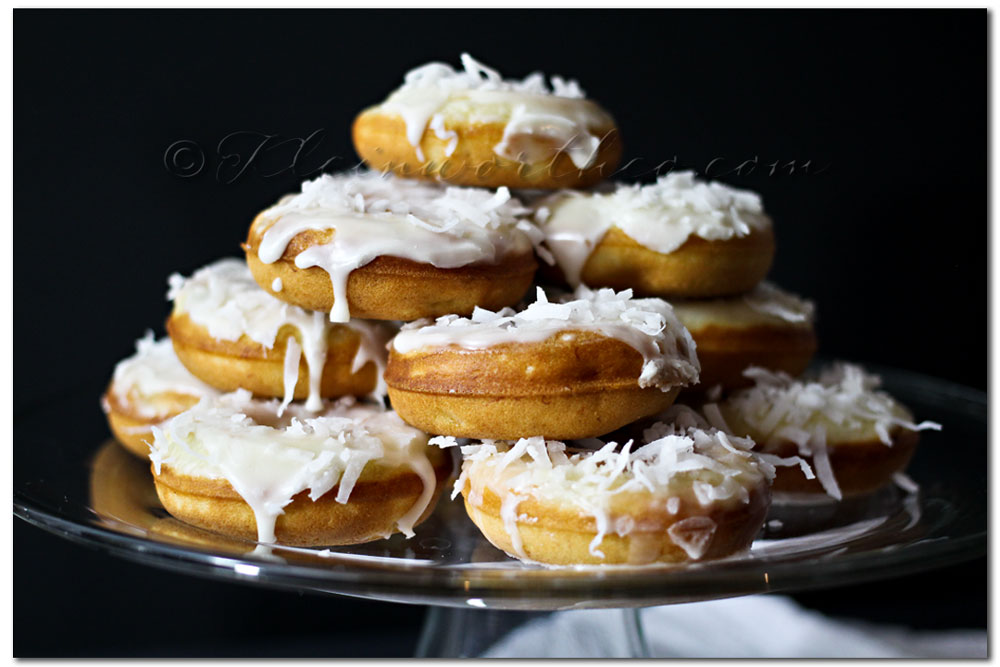 I made a huge batch of these- I think I had about 50 in the house.  They fed us the entire week. So not bad considering how much my kids eat.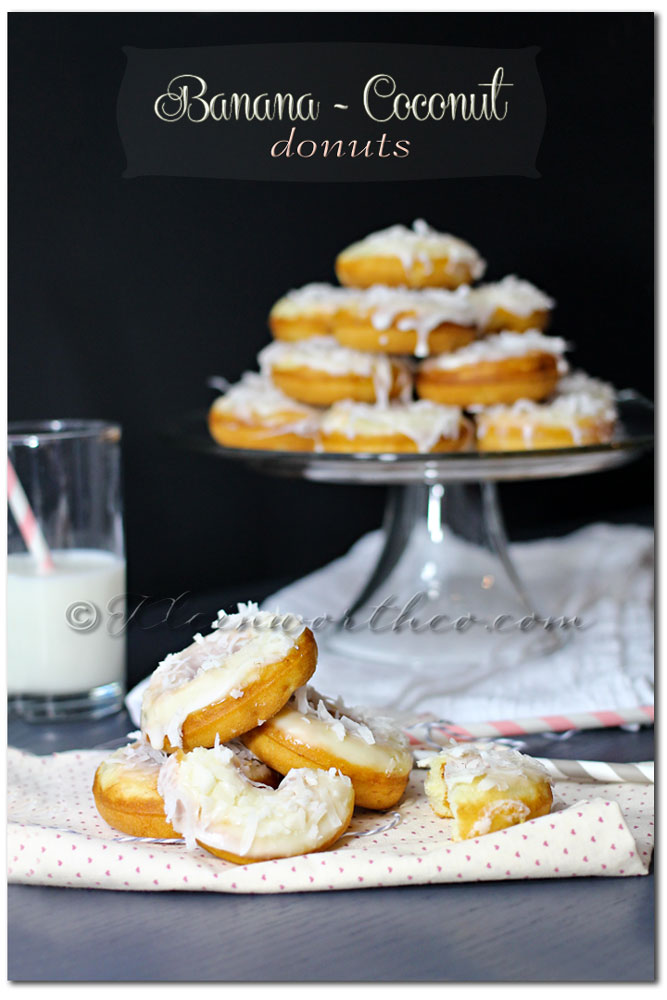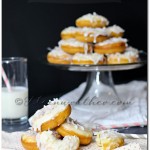 Banana Coconut Donuts Recipe
Ingredients
3 cups all-purpose flour
1 cup granulated sugar
3 tsp baking powder
2 sticks + 2 tbsp melted butter
4 over ripe bananas
1 cup milk
2 eggs- lightly beaten
Instructions
Pre-heat your donut machine or your oven to 350 degrees.

Combine dry ingredients in large bowl. Make a well in the center.

Whisk in melted butter, bananas, & milk until combined. Add eggs- whisk until it forms a smooth batter.

Transfer to small pitcher. (it's a bit too thin for a piping bag)

Spray your donut maker or donut pans with cooking spray.

Pour in your batter filling to the top of the pan for the donut maker or 2/3 full for standard pan.

Cook 6-7 minutes in the donut maker or 9-12 minutes in oven for standard sized donuts.

Remove & let cool to a temperature that you can handle them. Dip in glaze & decorate.
Glaze recipe HERE.  Just dip or sprinkle with coconut before it dries.
Now it's time for you to share!
Everyone is Welcome as long as you link back to Kleinworth & Co. or Button Up. (Buttons HERE)
Please also connect with me on Pinterest and/or Twitter
Don't forget to come back & join me on Mondays for Project 52 & Wednesdays for Your Best Weekly
To see where I am linking today- visit HERE
0