So – the boy is 14.  While we do expect a lot from him in the way of chores, there are some things that we do "baby" him about.  I suppose it comes from him being in the NICU when he was born.  We have always handled him a bit differently because of that.  So much so that sometimes we refer to him as the Prince of the house.  He's spoiled!  We figured it was time that he learned to make something other than lunch & left-overs.  We have been trying to find things that he can make that are easy to get him comfortable in the kitchen before we start throwing the more complicated stuff at him.  Yes- he does know how to BBQ, but in the kitchen is a different story.
So I was thrilled when I was contacted by Chef Boyardee & asked to give these products a spin.  Cool right??!!!  Perfect opportunity to make  something good, but keeping it easy for him.  I want my kids to be comfortable in the kitchen before they leave this house.  I didn't know a thing about cooking & still leave it to the hubs if I can.  Baking is a different story- but that's not news here.
It was fun to get him in the "garb" and get him excited about making this Baked Spaghetti Pie.
So easy, so simple, so quick!  SO GONE!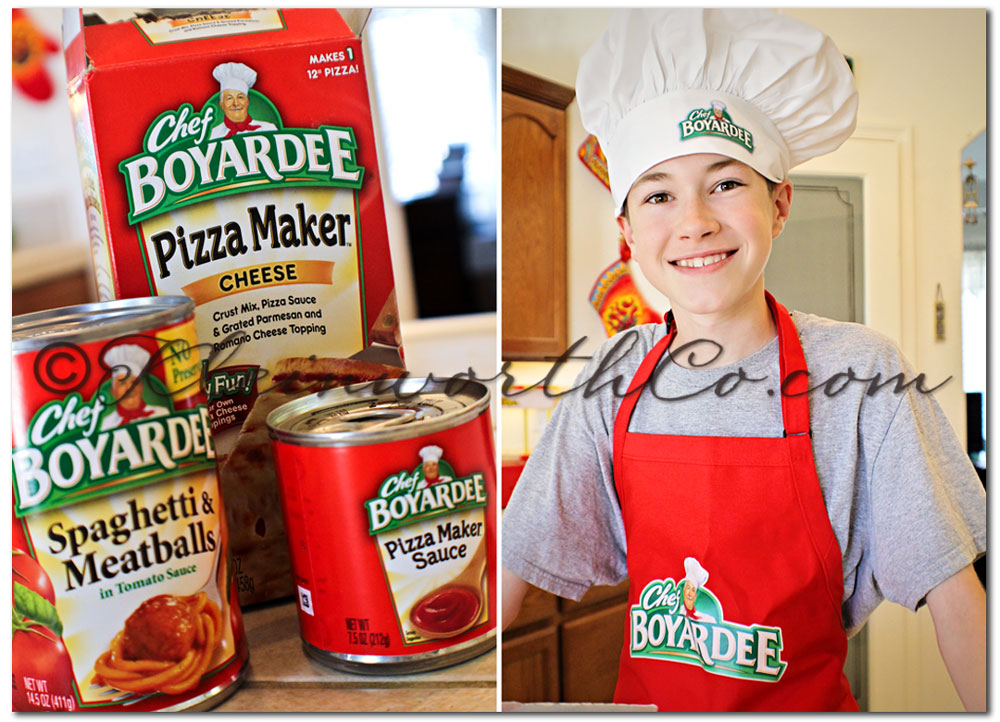 If you would like a  Chef Boyardee Little Chef's Project Kit
leave me a blog post comment letting me know what your "go-to" quick dinner dish is.
Kit includes: Apron, Chef hat, Recipe ideas, Spaghetti & Meatballs & Pizza Maker to create your own dinner.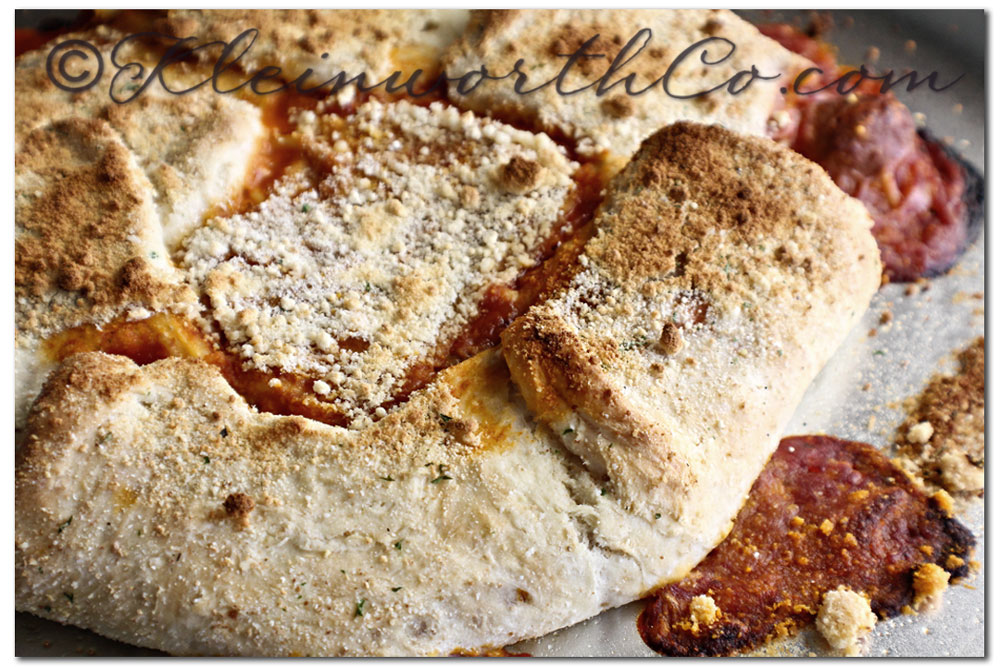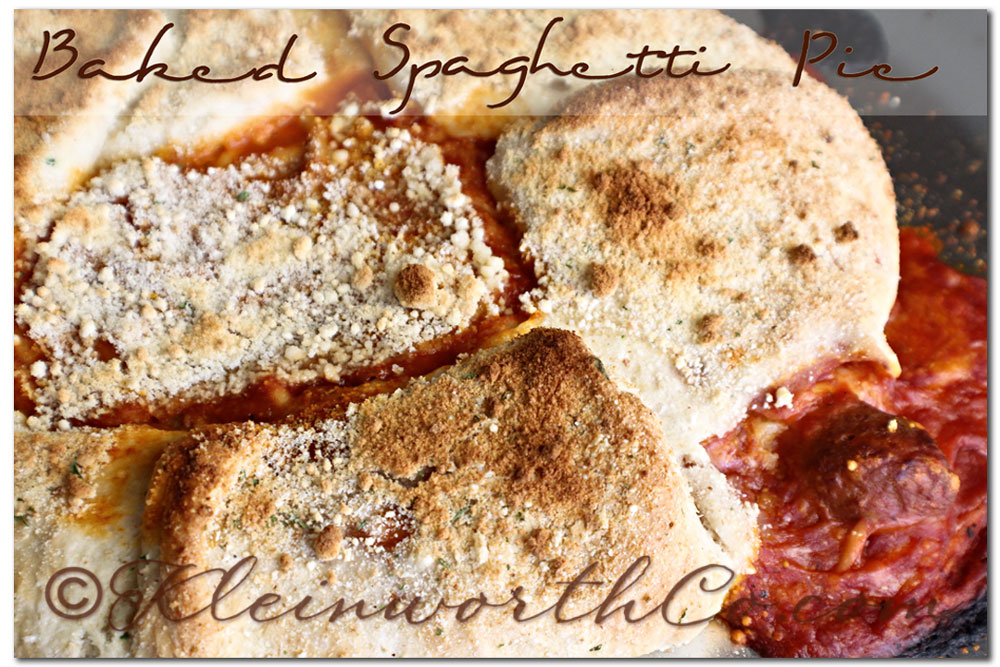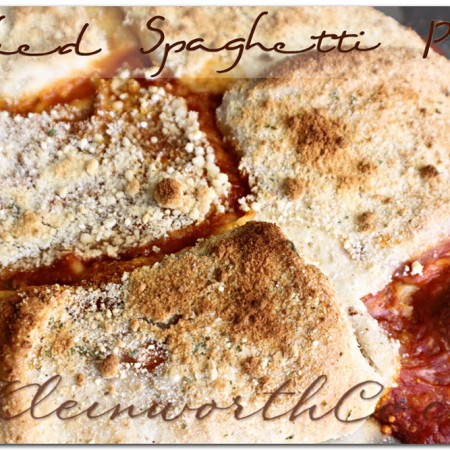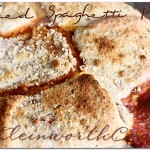 Baked Spaghetti Pie
Ingredients
1 Chef Boyardee Pizza Maker Kit
1 can Chef Boyardee Spaghetti & Meatballs
2/3 cup Warm Water
1 tbsp Olive Oil
1/4 cup Bread Crumbs
1/8 cup Parmesan Cheese
Instructions
Prepare dough according to instructions on box (with Olive Oil)

Spray pizza pan with non-stick spray & sprinkle with bread crumbs

Form dough on pan- spreading out

Pour on can of Pizza Maker Sauce (included in box) Spread out evenly on dough.

Sprinkle included packet of Parmesan cheese over sauce

Pour & spread out can of Spaghetti & Meatballs on top of sauce.

Fold dough in all around the edges to contain the filling

Sprinkle with remaining bread crumbs & additional Parmesan cheese.

Bake 20 minutes. Serve immediately.

This fed my 3 kids for lunch- 2 slices each.
Cooking with your kids is not only a way for family fun, but it's also a great opportunity to create teachable moments in the kitchen. This fall, Chef Boyardee encourages families to get in the kitchen with their little chefs through a series of online activities.
Chef Boyardee is proud to introduce The Little Chef's Project: A collection of Kid-friendly tips, tricks and recipes for family fun in the kitchen. The Little Chefs Project is the first crowd-sourced e-book made by moms, for moms. Thanks to the help of 40 bloggers from TheMotherhood.com, The Little Chefs Project provides fun tips for cooking with kids and making getting in the kitchen a fun, learning experience.
Tune in to TheMotherhood.com for a six-part series of 30-minute online cook-alongs for tips, tricks and recipe ideas for cooking together in the kitchen. Visit TheMotherhood.com for a complete schedule of the cook-along series.
You and your little chefs can also get cooking with Chef Boyardee himself! Exclusively for its Facebook community, Chef Boyardee has launched a fun, customizable recipe e-card that gets you and your family in the kitchen with Hector Boiardi himself! Check it out the Chef Boyardee ME! Recipe Card and show us what's cooking in your kitchen!
Be sure to join me next week.  I will be taking a much needed blogging break to prepare for our move.
But I have something very special planned for you all.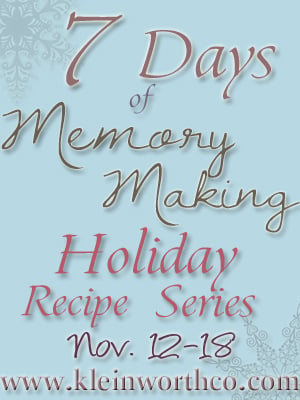 I have teamed up with the FABULOUS Danelle from Danelle M Photography & Let's Dish Recipes to bring you some amazing things.
Don't miss it!
Linking with: Live Laugh {Linky} Thursday | The 36th Avenue | I'm Lovin' It Party | One Creative Weekend | This or That Thursday | Little Things Thursday