New Year's resolutions!!  Oh so many things I want to resolve to do this year.
One thing I HAVE TO do is save more money on groceries.  The cost of feeding this family is growing, however our income is not.  Some of you know that we took a sizable pay cut to take this job here & make this relocation work.  We are also now on a fixed income, so what we have is what we have.  We have to make it work.  I'm okay with that for now- but that means that I have to be better about watching what gets put in the cart at the store.  No longer will we be just grabbing things off the shelves & not watching the tally.  It's okay- really.  When we moved & I had to clean out our huge pantry in the old house, I found all sorts of things that I forgot we had or we had way too much of.  I was embarrassed that we had made these purchases & not used these things within a timely manner.  I felt wasteful.  I like to keep a good stockpile of food in the house- especially now that getting snowed in is a real possibility.  But that doesn't mean that we should be wasteful in our food or our spending.  Now is the time for us to be mindful about what we are really using & where our pennies are going.
Because of this I was super excited to participate in the Kroger Buy 5 Save $5 New Year's Campaign.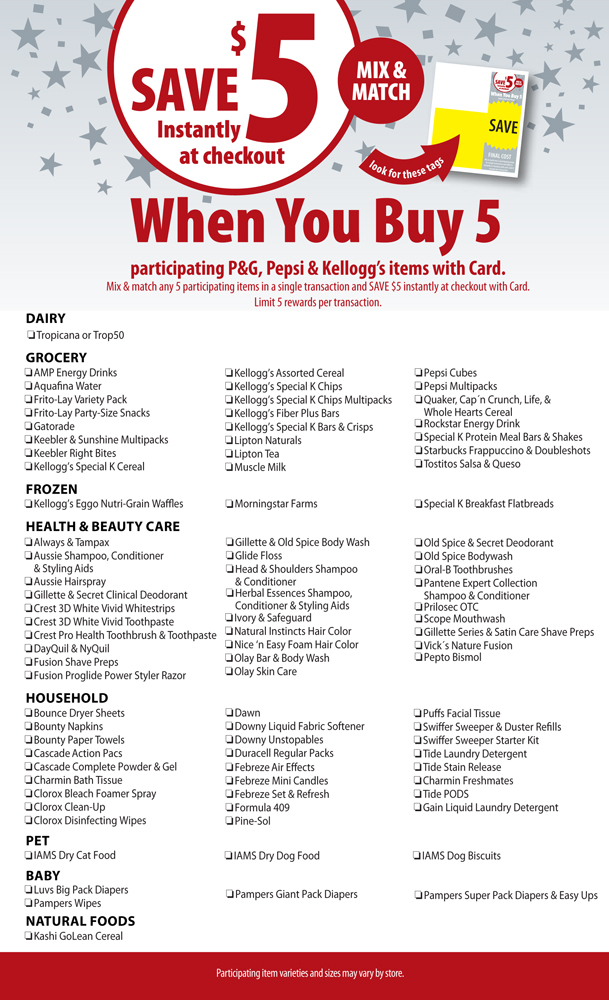 Check out all the participating items on this list!!!  I buy many of these things all the time.  So you can imagine how excited I was to see that by just bundling 5 of them together I could get $5 back right there in the store.  AWESOME!!!  I mean really- I'm already going to buy these things & Kroger is going to give me $5 cash back just for doing it all in one trip.  HUGE Savings!   Exactly what I am talking about here people!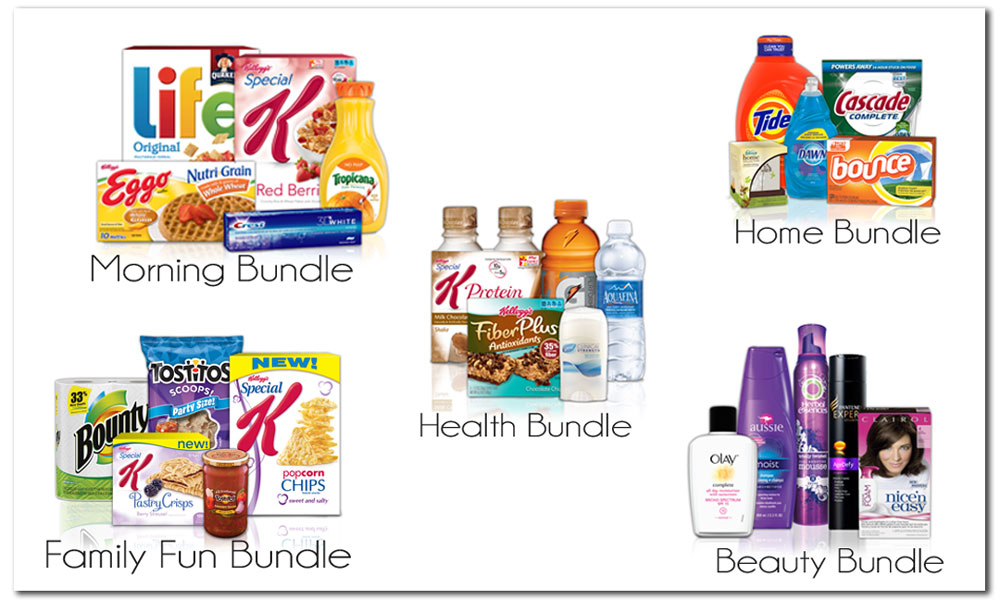 Kroger also put together these Bundles of participating items that makes it easy to be sure you are saving.  I bought most of these things.  The Family Bun Bundle are all things we regularly purchase, the Beauty Bundle too, pretty much everything you see here was in my cart leaving the store. Best part- I also walked out with cash back!  I love that if I plan my list right I can save save save- which helps me reach my goal of keeping my resolution to spend less at the store.
Here is a list of Participating Stores
Kroger
Baker's
City Market
Dillons
Food 4 Less
Food 4 Less Fremont
Foods Co
Fry's
Gerbes
Jay C
King Soopers
Owen's
Pay Less
QFC
Ralphs
Smiths
Shop and play to win with the Buy 5 Save $5 sale taking place December 30-January 12 at the Kroger Co. Family of Stores! Automatically save $5 at checkout when you use your Shopper's Card, just by buying 5 participating products. In addition, you can play this quick and easy online game for a chance to win up to $15 off your entire trip.
I was selected for participation in this campaign as a member of Clever Girls Collective.
Hi! I'm Gina- the creative mind & photographer behind Kleinworth & Co. I'm a mom to 3, wife to a Fire Chief & homeschooler who is bursting at the seams with project & recipe ideas. I love the share simple & cost effective ways to decorate your home, create fun projects for the kids & feed your family well.
Latest posts by Gina Kleinworth (see all)