This is the last of what I will be sharing of the images from Christmas.  It was a very quiet day that started the night before with me waiting to wrap 100 presents until we got home from Church.  Hugs mistake & I paid for it by not getting into bed until nearly 2am.  We decided to try out a new church in hopes of finding a good church home that we can feel comfortable in now that we are settled in here.  Unfortunately Christmas Eve probably wasn't the right time to try something new.  There were kids running around, the people behind us must have thought the sermon should have been a movie because they brought candy & sat there & crinkled & nibbled through the whole message- all the while talking.  We missed most of what was said which was very disappointing.   We did like the church itself- just maybe need to go when the little ones are in their own classes.
We started Christmas morning with me capturing the drops of snow melting off the trees.  It was a clearer day & the snow we received the day before was just starting to melt a bit.  It was so pretty.  We then got the kids up & spent the next couple hours doing the whole gift opening deal.  The kids received a whole lot more things they needed than in years past- but they all are happy to be fulled decked out for the winter months here.  We scaled back quite a bit & it was actually quite nice to do so.  I wrapped everything in brown paper- only distinguishing the packages by the ribbon color that was each of their favorites.   Then we had some snacks & cooked a ham dinner later on.  We typically only eat snack tray stuff on Christmas- but with skipping Thanksgiving altogether this year- we were craving some tradition.  So yes- the Garlic Mashed Potatoes were on the menu & it was so nice to be able to get back to a hearty home cooked meal.  Oddly enough- I didn't really take that many pictures.  Our cabin is pretty dark & so I actually had to resort to my flash to be able to capture what I did.  That was disappointing but once again- it was the memories I was capturing- not creating art. Later in the evening it started snowing again which made me so happy.  We had snow on the ground so we did have a white Christmas but I had heard once that it's not a true white Christmas unless it snows ON Christmas.  I was a bit worried that it wouldn't happen- but it did.  I was elated.  Overall it was a great day- full of love & joy with our children.  Can't really ask for anything more.  OH- & I found out that my step-sister is expecting.  So I am thrilled about that.  I am the only one with kids on my dads side.  So I am hoping that the drive from here to Portland isn't too long as I am definitely going to want to do her maternity photos & maybe try my hand at newborn photos too.  Yay!!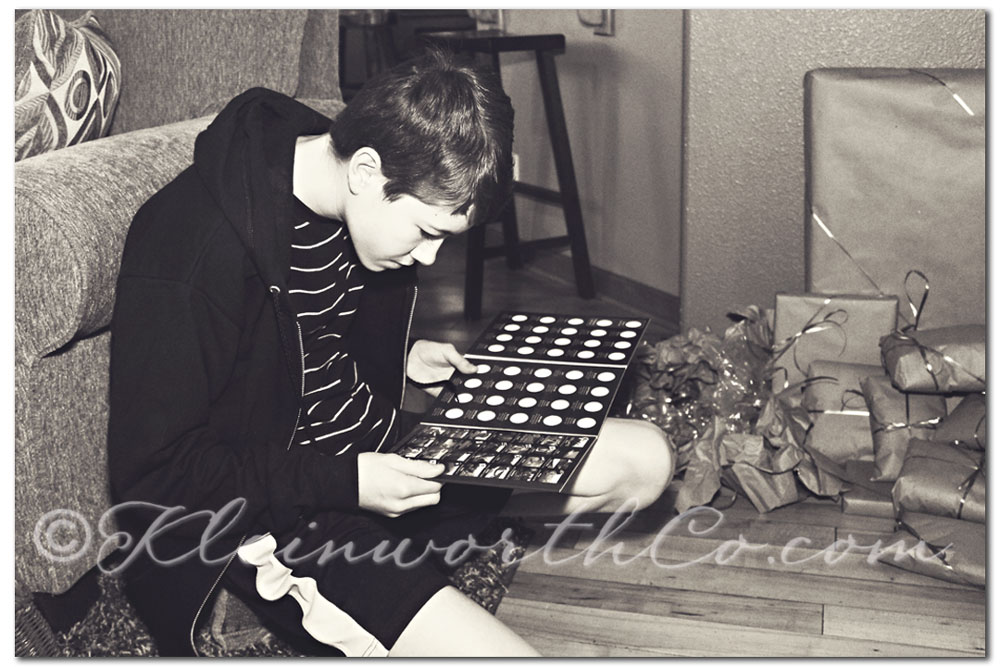 He received the National Park Quarter kit.  He's super excited to collect them all.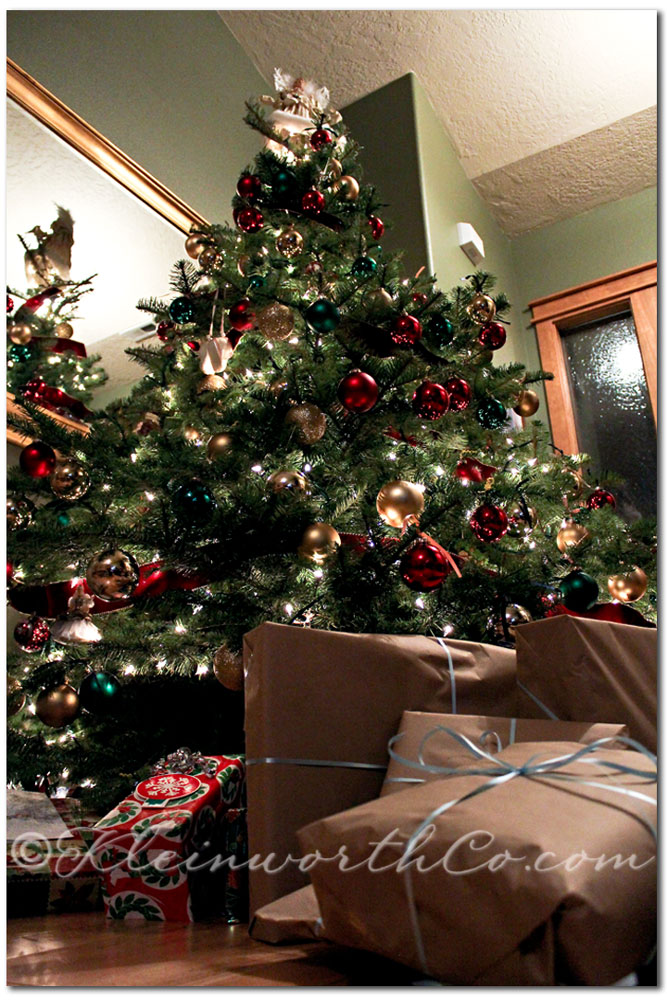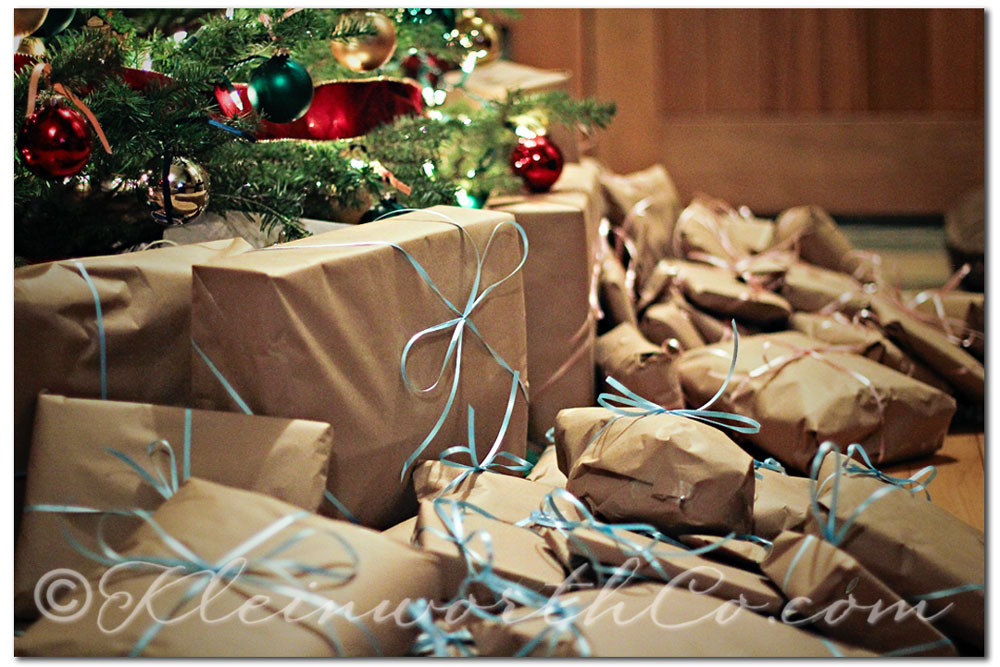 We have a tradition where I always capture all the gifts before they are opened.  This time I couldn't  get them all because our little cabin is so tight.  I couldn't get all of them in the shot unfortunately. So I had to break the shots between the girls & Mr. Man.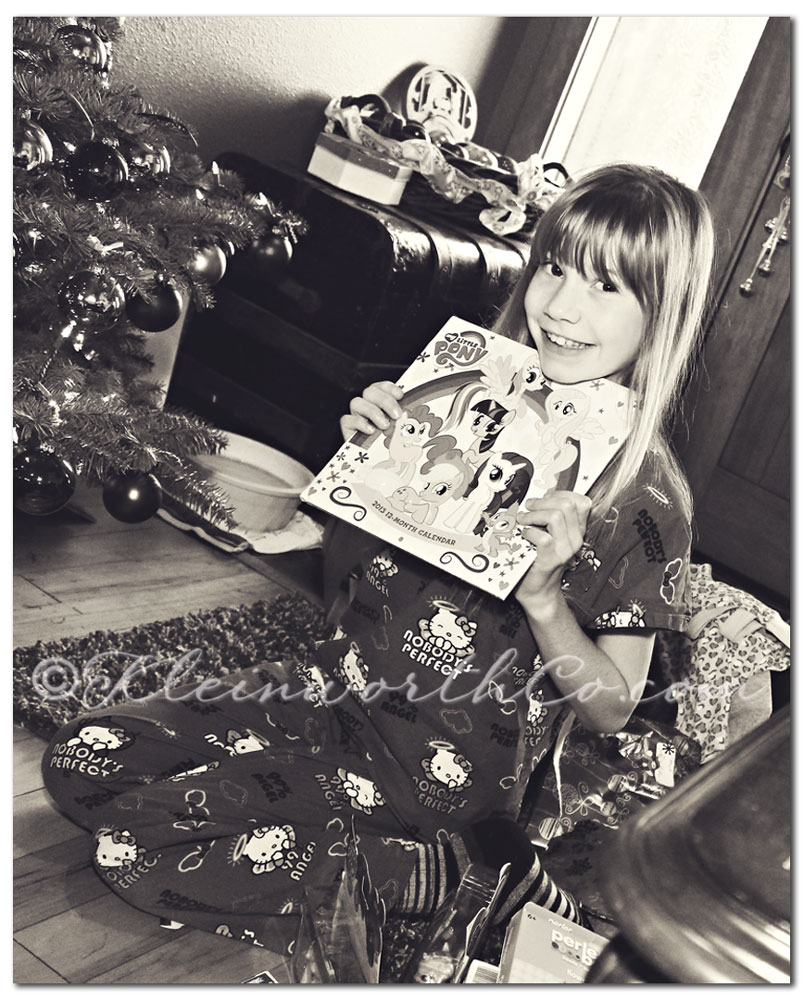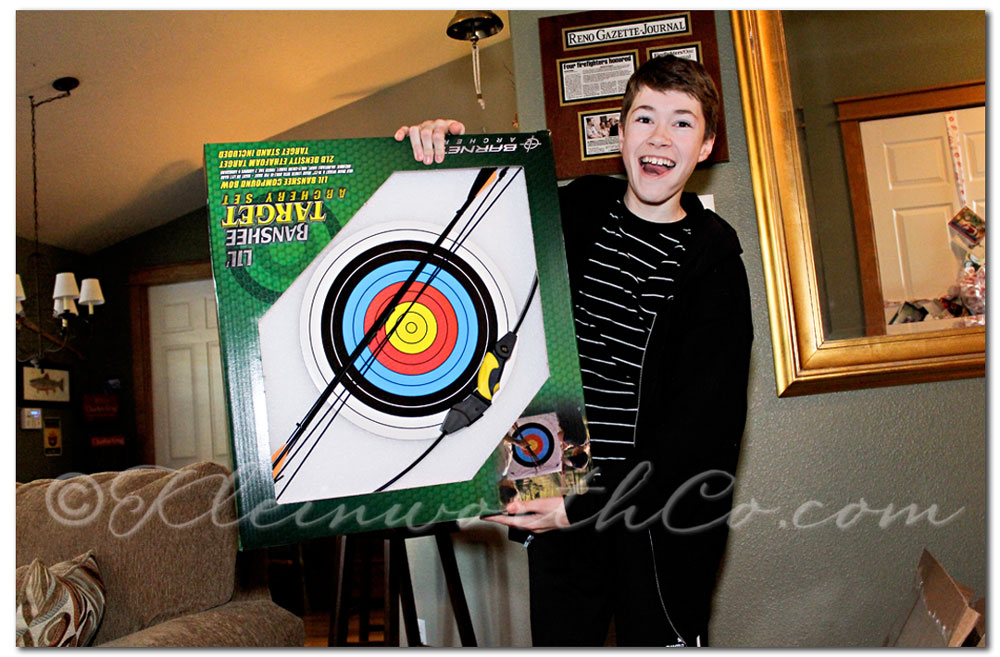 Yeah- I know- it's upside down.  Whatever  :)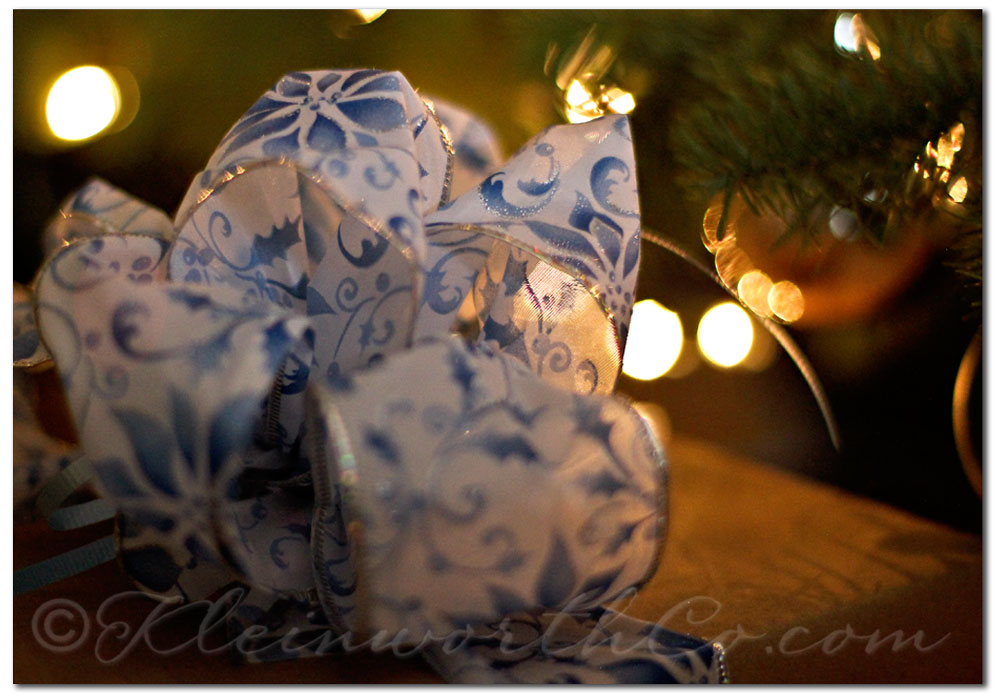 I couldn't resist capturing a little bokeh with the bow on the pickle gift.
Just a few short moments later Mini-Me dropped the pickle ornament on the floor & it shattered.
We were all devastated.  I'm now on the hunt for a new one.
It's not the end of the world.  It really was a good day in spite of that.
How was your Christmas??
Joining: Sunday Snapshot
Hi! I'm Gina- the creative mind & photographer behind Kleinworth & Co. I'm a mom to 3, wife to a Fire Chief & homeschooler who is bursting at the seams with project & recipe ideas. I love the share simple & cost effective ways to decorate your home, create fun projects for the kids & feed your family well.
Latest posts by Gina Kleinworth (see all)