Merry Christmas Eve Everyone!!!!!
I seriously can't believe that Christmas is tomorrow! That means that tonight I will be forgoing the usual sitting with the hubs while he watches TV & I'm working on some sort of project. Nope- tonight I will be wrapping gifts for the kids- probably until the wee hours of the morning & then setting everything out. I really am getting excited. I love giving people gifts- especially my kids. It's all I can do to wait for the day- I always want to give things early. The hubs & I don't exchange gifts. So we will get the kids stuff done & then we open anything under the tree that arrived for us from family. That way we can focus on the kids & what they are receiving. I used to be armed with a notepad & pen to write down everything so I could get the appropriate thank yous out. Now I just have the camera in hand & I try to capture everything. This year I may resort to flash as our house is very dark. It's either that or I will set up my studio lights around the room to help a bit. Have to decide that still. :)
Special announcements as we come to the end of our Project 366 Rewind.
First: There will be an extra special prize for the winner of December. As a Thank You to you all who have joined us all year & really put so much into making this so much fun each week…Sarah & I will be treating a winner to a Digital Design Package from Jessica Sprague. Yep- you choose which one you want (up to $20) and we will cover that for you. So be sure to share your favorite December photo next week so that we can post the top 4 in January. Which leads me to my second announcement…
Second: Sarah & I will not be continuing Project Rewind together for 2013. Sarah & I both have all sorts of other things pulling us in many different directions both with our blogs & outside of them. So Project 365 next year will not be happening here. HOWEVER- I like hosting you all & I LOVE seeing the things you capture each week. The whole idea is to encourage picture taking & the enjoyment in that. At the same time- having to do a picture each & every day can be hard with things happening each week. LIFE HAPPENS! Sometimes it's hard to capture all of it each day. So I have joined up with Tamar at Random-osity & we will be hosting a Project 52 instead. Yep- just one image a week- NO PROMPTS. We wanted to simplify things, less structure. Just all of us- sharing at least one (or as many as you like) image that you have taken the previous week. We will still host on Monday's because that will be the first full week after 2012 ends. So be sure to come back here or at Tamar's place on January 7th & join us for Project 52 – 2013. (I will also have the top 4 for December that day so you can vote)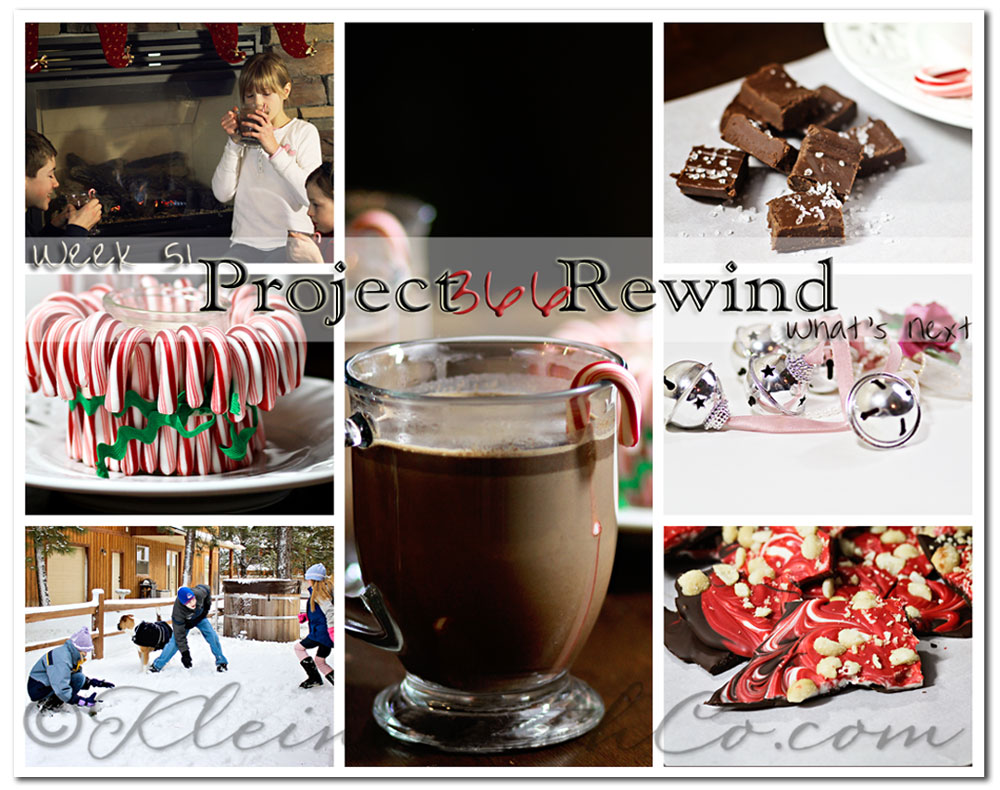 Last week was full with lots of treat making- and eating as you can see.
I'm also joining Rachel today.
LAST week's prompt-
Week 52-
Frosty + your favorite for December!
To find the whole scoop on Project 366 Rewind – head HERE
* Post your week in pics on Mondays- they can be in the form of a collage or separate.
* Including the weekly prompts is optional
* Our button must be present in your post
* Please visit some other blogs & leave some love & encouragement.
* Submit the URL of your blog post or Flickr entries- not your home page.
You can find the grab code in the sidebar. Having issues with it playing well lately.
document.write(");

Hi! I'm Gina- the creative mind & photographer behind Kleinworth & Co. I'm a mom to 3, wife to a Fire Chief & homeschooler who is bursting at the seams with project & recipe ideas. I love the share simple & cost effective ways to decorate your home, create fun projects for the kids & feed your family well.
Latest posts by Gina Kleinworth (see all)