We just arrived home from a trip up to find a new home.  The countdown to moving day just keeps going.  It seems to be happening so fast.  So much to do.  I apologize for only having one photo to share with you today.  I captured this one afternoon on the fly.  I love the simplicity of the shot & how it captures all the things I love about her face. No distractions- just her.  I think that is so important when they are this age because they change & grow so quickly.  I want to remember everything about her at this age.
I have not had a lot of time for regular time with the camera.  Yes I did take a lot of pictures this past week of where we will be moving to.  I really classify those more as documentation rather than enjoyable picture taking.  I will share those just as soon as I can find the time to get them processed & posted.  We are planning out the final logistics of this long distance move & making good progress on the packing.  The girls are so excited that they had their entire room packed & ready to go before we had the final contract signed for the hubs new job. They are ready & so are we.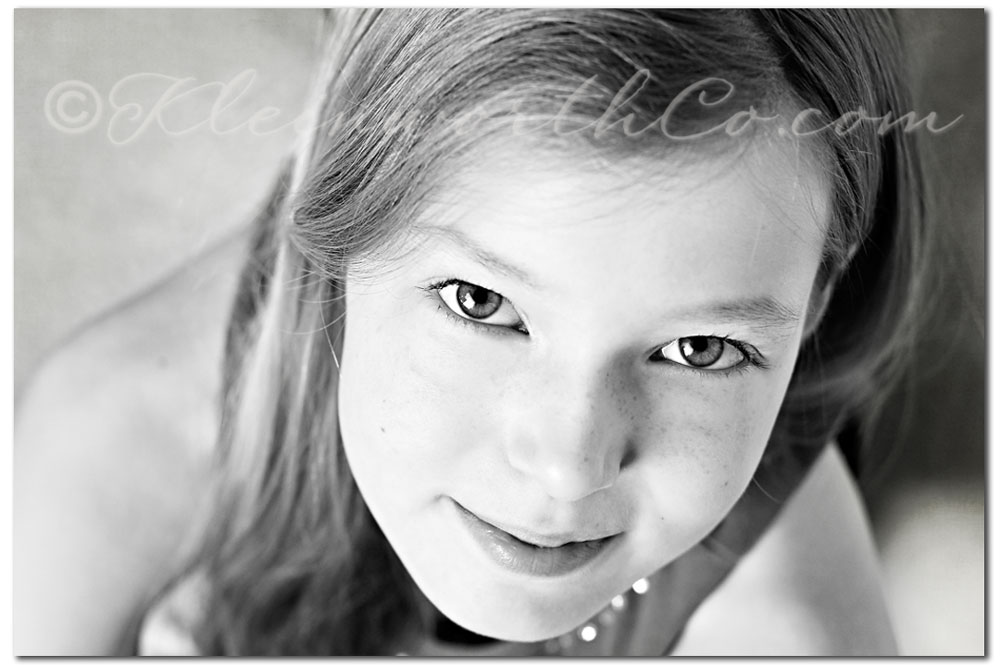 Simple Tween Photography  50mm, ISO 400, f/3.2, SS 1/125
Processed with FloraBella's Colorplay-  Perfect Color w/ Black & White layers on
Joining: Sunday Snapshot | Simple Things Sunday | Your Sunday Best
Hi! I'm Gina- the creative mind & photographer behind Kleinworth & Co. I'm a mom to 3, wife to a Fire Chief & homeschooler who is bursting at the seams with project & recipe ideas. I love the share simple & cost effective ways to decorate your home, create fun projects for the kids & feed your family well.
Latest posts by Gina Kleinworth (see all)